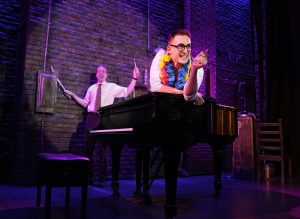 Two actors take on 11 different characters in a musical comedy that relies on clever writing and intensive acting to bring a hilarious murder-mystery to life.
Directed by Scott Schwartz
Written by Joe Kinosian and Kellen Blair
Starring Joe Kinosian and Ian Lowe
Runs January 24 through March 1
Location: The Old Globe Theatre
Rating: 4.5/5.0
The Old Globe's latest production, "Murder for Two," certainly doesn't thrive on embellishments. With solely a piano at the center, a few scattered trunks pushed to the side and several shelves lined with allusions to the board game "Clue," the stage is, well, empty. Unless you're dazzled by business-casual,the costumes aren't flashy either. Dressed in everyday garb in an ordinary room, the characters might as well be anybody. Ah, but therein lies the musical's ingenuity — with 11 different characters to fill, the two actors have to be able to play, well, anybody.
Two actors cast as 11 characters? That's right. The play's minimalist approach to a murder-mystery demands both laborious performances by talented actors and a script just as clever as it is fast-moving. Ian Lowe skillfully depicts an officer whose desperation to become a detective results in hilarious antics, and Joe Kinosian (also the play's co-writer and composer) impressively portrays all 10 suspects, giving each such a unique character that there is never a question as to which he's shifted into.
Though the play gets off to a slow start — the opening scenes are a tired tangle of pantomiming and pianism that lack the intelligent witticism of later acts — it picks up once the comic details of the murder start to unfold. The scene of the crime is a spooky New England mansion (how appropriate), and the victim is famed novelist Arthur Whitney. Somebody shot Whitney through the head at his own birthday party — but which of the guests could it be? His widow, Dahlia, seems more intent on wooing Officer Marcus and locating the missing ice cream than mourning her dead husband. The three 9-year-olds from the all-boys choir insist they've seen a lot, but they seem far too cute to commit murder. Town psychiatrist Dr. Griff knows everybody's secrets but won't spill any after Marcus addresses him a little too curtly. Steph, a graduate student who happens to be writing a thesis entitled "How to Assist in the Solving of a Small-Town Murder" is quick to point out that even Marcus — across town when the shot is fired — might not be innocent.
The script smartly slips into songs that fuse witty lyrics with peculiar sound effects and quick pianism to reveal each of the characters' stories. Lowe and Kinosian both play the piano: One sings and interacts with the audience as the other provides the accompanying instrumentation. But the actors don't stick to one role; they switch seamlessly from character to pianist, often doing both simultaneously. They occasionally find themselves having to hold conversation while performing complicated scores — a feat they achieve so effortlessly that the challenge of holding two different beats falls in danger of underappreciation.
But the musical's real accomplishment is its elevation of humor to art, a tricky triumph it attains through smart jokes and a resourceful use of limited staging. Its "closed room" structure is plucked straight from an Agatha Christie novel, and its vaudevillian scenes make it just as at home in the early 20th century as it is in ours.  But the musical comedy doesn't feel outdated; the detective's interrupting cell phone prompts Kinosian to scold the audience on multiple occasions, a comical interlude that calls out pesky audience quirks and brings a modern feel to an old style. The script is clever — the humor doesn't abandon goofiness for intelligent jabs, and the jokes are succinct enough to keep it fresh.
With hilarious characters made even more impressive by the casting of only two actors, brilliant jokes and impressive multitasking, "Murder for Two" will no doubt get you laughing.