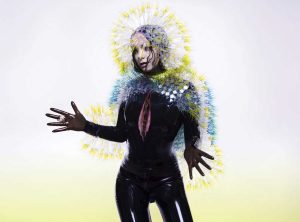 Icelandic singer navigates new territory flawlessly in beautifully-structured album
Rating: 5.0/5.0
Release Date: Jan. 20
Bjork has always fractured the diaphragm of pop music. This time around she enlists musicians Arca and Haxan Cloak for help with her instrumental landscape — harnessing the same iPad apps from her 2008–11 Biophilia Project — to produce "Vulnicura" — "Cure for Wounds" in Latin.
This album is startlingly personal. The most intimate song, "History of Touches," archives "every single fuck" in a "wondrous time lapse" as vocals split between hollow chimes. Evidently, Bjork has traded in her war cries ("Army of Me," 1995) for a voice that is even more powerful: a conversation that laments the end of her relationship with American artist Matthew Barney.
Now, you can call this a "breakup album" if you want to — and most people want to — but that would be taking the easy way out considering the way in which Vulnicura is structured charts not only the downfall of a relationship but also the triumphant resurrection of self that follows.
In terms of emotions, "Vulnicura" is shaped like an hourglass, beginning wide open with "Stone Milket," a lighter song that beckons, "show me emotional respect." It then gradually narrows into the initial stages of self-doubt via dissonant roar with "Lion Song" — "Maybe he will come out of this, loving me / Maybe he won't" — before closing up almost all the way in the center with "Black Lake's" aggressive drums. "Family," however, is the real crux of the album. Here, Bjork and her pitch-warping accomplices engage in an electronic erasure of the family unit and return to the ritualistic "where do I go to make an offering," as she mourns the death of her "miraculous triangle: father, mother, child" with a quick violin reminiscent of fleeting footsteps.
But the songs that follow "Black Lake" and "Family" are by far the most impressive. In line with the hourglass structure, the album surpasses its narrow boundaries and opens back up with "Atom Dance" (featuring vocals by Antony Hegarty), a celebration of personal strength that rebuilds the self with lyrics, like "Enter the pain and dance with me." By the end of "Vulnicura," Bjork is healed, consistent with the album title's meaning. Case in point, this is much more than a "breakup" album — as you can imagine any album that dies and resurrects itself within the span of one hour must be. It is a transformation. Listen and learn.