The Tritons fail to win a single set against No. 11 CSU Long Beach and No. 15 CSU Northridge.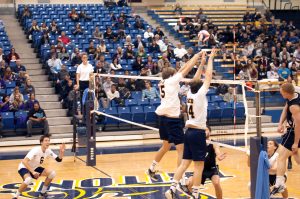 The UCSD men's volleyball team will look toward its season home opener this evening
against University of Southern California as the Tritons lick their wounds from a season-low hitting performance at No. 15 Cal State Northridge last Friday and a sweep the Wednesday prior at No. 11 Cal State Long Beach. Both losses came at the end of a season-opening four-game road stretch that puts UCSD at 1–3 overall to start its 2015 campaign and 0–2 in Mountain Pacific Sports Federation play.
In last Wednesday's sweep, the Tritons managed to produce leads in all three sets, only to lose to the 49ers by scores of 25–21, 25–20 and 25–15 in Long Beach. The first two sets were disputed and shared a similar pattern. UCSD fought their way to ties and leads before Cal State Long Beach runs put the sets away. In the third set, despite holding a lead at 9–7 and coming back to a tie at 12–12, UCSD could only muster three points for the rest of the set as the 49ers secured the sweep.
Cal State Long Beach improved its undefeated record to 4–0 and recorded its sixth straight victory over UCSD, with the four last ones coming in straight sets. The Tritons dropped their hit percentage under 0.300 for the first time in the new season, managing only 0.229 — a decline that would continue on Friday. Cal State Long Beach hit 0.396 and also won the defensive battle at the block, 8.5–2.0.
UCSD was swept yet again by No. 15 MPSF opponent Cal State Northridge on Friday in Northridge to drop the second conference match of the season. The Matadors' win improved their season standing to 3–2 overall and 1–0 in MPSF action.
The outing proved unfortunate for the Tritons in terms of their hitting performance — posting a dismal 0.027 (20–18–73) average on the night and losing each set 25–20, 25–13 and 25–21, respectively.
"Heading into [Friday's] match, we felt like we had a pretty good game plan," UCSD head coach Kevin Ring told the UCSD Athletics Department. "They have two really good middles who are very physical that they will set from along the net and off the net. Their pin hitters are very physical. They hit high, hard and deep."
In the first two sets, UCSD largely trailed from behind, though the second proved the worst performance as the Tritons could only manage three kills en route to the Matadors' resounding 25–13 victory.
However, the blue and gold let the third set slip through their own fingers, as they held a permanent lead up until their 17th point. Cal State Northridge broke free on two huge runs to swing the set in its favor and ultimately seal the match sweep.
"We knew what we needed to do to attack them and get them out of system," Ring said. "Unfortunately, we were not as strong as we needed to be from the service line."
Starting the season below 0.500 has no doubt been disappointing for the program, especially considering the everlasting struggle to produce a winning season since the team's inception. The 2014 season ended with a 4–23 overall record with only two victories in the MPSF, and though the season is still young, matches thus far have prompted little hope for better results in 2015.
UCSD will attempt to turn things around as the team opens at home against an even tougher No. 5 USC squad this Thursday, Jan. 22, at 7 p.m. before traveling to Riverside to play California Baptist University at 7 p.m. the following day.