Tennis Winless in Irvine
UCSD goes 0–7 against UC Irvine in season opener.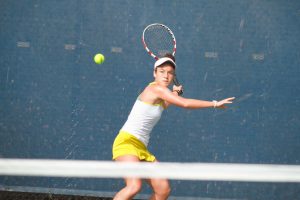 Failing to keep up with Division-I opponents, the UCSD women's tennis team was defeated 7–0 last Saturday in its first match of the regular season against UC Irvine at Anteater Stadium. The Tritons lost all six singles matches and two out of three of their doubles matches to open up their 2015 campaign with a 0–1 record.
Not having seen action since an exhibition tournament last October, the Tritons appeared overwhelmed by their higher-ranked foes. The highlight of the tough day came for UCSD's pair of sophomores Nava Nowamooz and Shannon Theisen, who managed to earn an impressive 6–4 win against UC Irvine's junior Sarah Gong and freshman Arisha Ladhani in the No. 2 slot.
Sophomore Britta Mosser and junior Kyra Scott fell together in the No. 1 doubles slot by a 6–3 score. The freshman duo of Jasmine Hosseini and Nousha Nowamooz struggled in a 6–1 defeat in the No. 3 doubles slot.
In the singles, there were some very strong performances against formidable challengers. Mosser managed to push her opponent senior Kat Facey to three sets in the No. 3 singles slot, showing determination to take the second set 6–3 after losing the opening one 6–0. Mosser ultimately fell in the final set, narrowly losing 6–4.
In the No. 1 singles slot, Scott also played some great tennis, managing to take a 5–2 lead in the second set after losing the first 6–3 but eventually let the advantage slip away, losing the set 7–5 in the final moments.
Despite the sweep in their season opener, UCSD head coach Liz LaPlante expressed satisfaction and optimism in the Tritons' effort against a superior opponent.
"I was actually really pleased with the way the girls competed," LaPlante told the UCSD Guardian. "We were pleased to win the No. 2 doubles, and then Kyra had a very close singles match and Britta went three sets. Overall, I was very pleased."
The team will be looking to build upon its performance for the next match against another Division-I opponent in Cal State Fullerton. While UCSD has officially begun its season, these opening matchups against Division-I schools serve as little real indication of what is to come throughout the season's primarily Division-II play.
"We have been working on being more aggressive and going in for our shots more, which is what [UC] Irvine was able to do against us," LaPlante said. "[Cal State] Fullerton will be almost as tough as the [UC] Irvine match. Again, [it's] more of an exhibition against a Division-I program, so we're hoping to get some really good practice out of it."
Th e Tritons travel to Cal State Fullerton on Wednesday, Jan. 21, in another opportunity to challenge and prepare themselves before they return home for their Division-II opener against Azusa Pacific University on Saturday, Feb. 7.