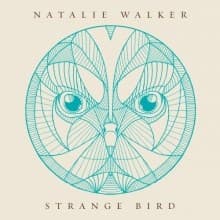 Electronica singer-songwriter makes a sophisticated foray in a new kind of dream.
Rating: 4.5/5.0
Release Date: Mar. 10
Who would have thought that Katy Perry and Sofia Coppola have similar tastes in music? No one, probably, unless you're Natalie Walker, whose blend of electronica and alternative has received tweeted praise from Perry and made its way onto the big screen in Coppola's quirky period drama "Marie Antoinette." Walker's recognition in both the film and music industries came after the singer-songwriter split from the trip-hop group Daughter Darling and embarked on a solo career. Since then, she's crafted a mix of indie-pop and electronica that is both haunting and ethereal. Her latest album "Strange Bird" is no exception, yet her fourth full-length brings a mature edge to Walker's discography.
Electronica tends, in general, to be a relatively "cold" genre, distancing itself from listeners with its technologically engineered rhythms and melodies and rendering the only human side of its music — namely, the vocalist — as just another instrument in the background. Walker, on the other hand, puts her rich mezzo-soprano vocals and gentle songwriting at the forefront of every track, effectively humanizing electronica. The lead single "Trust" does just this, opening the album with a catchy '80s-inspired beat that is laced with the comforting plucking of an electric guitar and Walker's warm lyrics: "Climb the wall,/ Brick by brick/ We'll jump off/ From the top/ To the edge/ Hold my hand/ You can trust me."
This track and several others on "Strange Bird" hint at Walker exploring a slightly different sound compared to some of her past electro-pop lullabies (take the hypnotic titular track off of 2008's "With You"), showcasing synthesizers as much as instruments more typical of more mundane pop. "Guns Down," for example, begins and is interlaced with a painfully melancholic piano playing minor key chords that may very well have been lifted from the somber work of Vince Guaraldi. The smoothly produced track is full of dream-pop sensibility, giving a glimpse of Walker's potential to succeed in that genre.
Other songs still retain Walker's roots in trip-hop, such as the dark track "Lightning." The song gives Walker the opportunity to show off her powerhouse vocals that stand out in a melody influenced by '90s alternative rock. Likewise, the hip beats of "Skywalker" manage to create a tune that is both danceable and emotional. Here, Walker sings with a determined attitude, "I am here and I am free from captivity/ I'm breaking in my wings/ … I'm opening the door/ It's time to make a move." More than anything, these lines are an anthem to the musician's growth over her 13-year-old career, during which she has refined her sound into an uncategorizable one. Her new album is simply a testament to this strange bird starting to really take flight.