UCSD slips past Academy of Art, pulls off upset against No. 19 Cal Poly Pomona.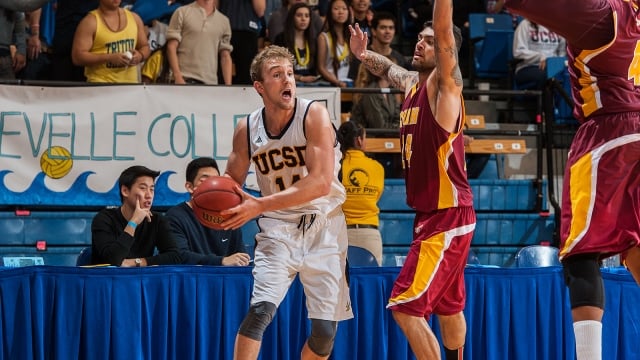 After being blown out by UC Riverside in its final preseason matchup last weekend, the UCSD men's basketball team bounced back strong, kicking off its regular season with two impressive road victories. Tritons first pulled off a comeback 72–69 victory against Academy of Art University on Wednesday and escaped with a nail-biting 69–66 upset against No. 19 and conference opponent Cal Poly Pomona on Saturday.  
In their season opener against Academy of Art University, the Tritons dug an early 11-point hole in the first half. They had a solid half offensively; however, their defensive lapses allowed Academy to hit 63 percent of its attempts. But with balanced team contributions, the Tritons would cut the lead down to only one by halftime. 
Junior forward Drew Dyer led the way for the Tritons, recording 25 points on 7-10 shooting, six of those attempts coming from the three-point line, where he remained red hot throughout the game. 
The Tritons' determination on the board was one of the underlying factors of the victory. The Tritons out-rebounded the Urban Knights 31–24, allowing the Tritons to score 14 second- chance points to Academy's six. Twelve of those second-chance points came in the second half. Junior forward Zach McMillan had a team-high six rebounds in the game, while also posting six points and three assists.
UCSD took the final lead change at about halfway into the second half after a three-pointer by sophomore guard Jeff Van Dyke, who finished with 11 points off the bench. The team would continue to shoot lights out, making six out of nine three-pointers in the second half. 
For their California Collegiate Athletic Association opener three days later, the Tritons upset the perennial powerhouse Cal Poly Pomona, a team they have not beaten in the last 12 meetings. Despite the unsuccessful history against Pomona, head coach Eric Olen and his team was determined going in to the game. 
"For us we have the same mindset every time," Olen told the UCSD Guardian. "We want to compete on every possession, focused on our job and our execution and be aggressive regardless of who were playing — to be physical and aggressive, try to attack and keep pressure on the other team."
The Tritons displayed a balanced offensive performance, with four of their starters scoring in double digits. The story of the night was UCSDs barrage of three pointers, in which the Tritons made 43 percent of their 30 attempts. Three-point specialist and junior guard Aleks Lipovic had a team-high five treys for a total of 15 points. 
"I think experience from this week will help us in [limiting turnovers] because when we do take care of the ball, we've been able to execute pretty well in both of the games; we shot good percentages," Olen remarked. "We got a lot of the shots we wanted and we feel like if we can get the shots that we want, we feel really good about our team scoring points."
Freshman guard George Buaku got the nod to start and did not disappoint; he finished with 11 points and four rebounds, going a perfect 3–3 from beyond the arc. 
"[Cal Poly Pomona] went with a smaller lineup so we wanted to make sure we were matched up so that we could try and guard them," Olen said. "George [Buaku] did a great job of being ready to go and made an impact when he got that opportunity."
Again, the Tritons would be able to convert on their second-chance opportunities, scoring 16 second-chance buckets to Pomona's seven. Despite cooling off from Wednesday's game, Dyer still managed to score nine points and corralled a team co-high seven rebounds. Zach McMillan also went seven off the glass.
UCSD was in the lead for most of the game until halftime, when the score was tied at 34, but the Tritons would regain and hold the lead for the rest of the game. It was junior guard Hunter Walker who sealed the victory for the Tritons. Overall, he had a stellar, well-rounded game, finishing with 12 points, four rebounds six assists and two steals in only 24 minutes of play. With two seconds remaining in the game, Walker drew a foul and sank a free throw to give his squad the three-point lead and ultimately the win. 
"Anytime you can win on the road, its important," Olen said. "Especially against good teams, being a younger group winning some close games early in the year is encouraging and hopefully it will pay off later in the year."
The Tritons have a tough schedule to start off the season with its first seven games on the road. They travel to Denver, Colorado next week for a set of back-to-back games against Colorado School of Mines and Fort Lewis starting on Friday, Nov. 28.