Despite uninspired lyrics, exceptional sonic choices and creative genre-bending push the veteran rock band back into relevance.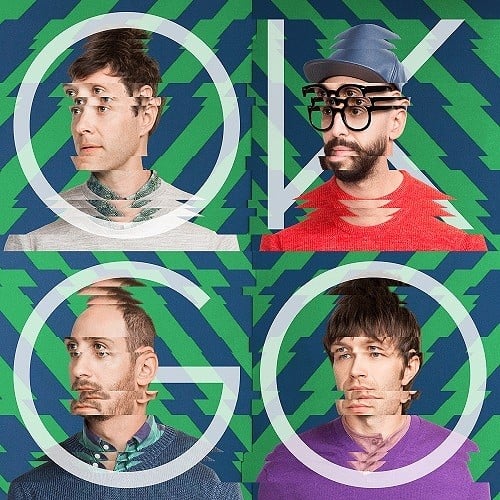 Rating: 3.5/5.0
Release Date: Oct. 14
It must be rough to be OK Go, a pop-rock band that peaked in 2007 with a viral music video featuring the musicians dancing on treadmills to "Here It Goes Again," one of its less-than-memorable tunes. Its following 2010 album release "Of the Blue Colour of the Sky," which was experimental and had a poor choice of singles, went comparatively unnoticed. Sixteen years into its career, the Chicago band has taken to PledgeMusic to fund its latest effort, "Hungry Ghosts." Expectations sufficiently lowered? Good. It will be even easier to appreciate how tight and fresh its newest collection feels.
On the first listen, it's nearly impossible to focus on anything but the instrumentation because the varied and dense production is so engaging. "Hungry Ghosts" explodes to life with a bombastic opener, "Upside Down & Inside Out," packing everything but the kitchen sink into its wild, upbeat, synthesized beats. Driving the song, the vocals glitch and skip around in the choruses, crescendoing into lines like, "Don't-on't-on't stop-op-op, can't-an't stop-op/ It's like a freight train." "Obsession" is another highlight, sonically taking a page from the Backstreet Boys' playbook but pumping everything with sex and cowbell. In fact, almost every track has something novel to offer, from the chirpy violin lines permeating "Bright as Your Eyes" to the creepy "game over" electronic sounds in the verses of "The Great Fire."
It would be a shame for someone to pay close attention to the lyrics, however, because they don't stack up to the thoughtful arrangements. While mostly far from terrible, it seems that a band of late-30-somethings shouldn't ever be moaning about relationships as if they're still hormone-wracked high schoolers. "The One Moment," the only true throwaway track, opens with the lines "with the lines, "There's nothing more profound/ Than the certainty/ That all of this will end/ So open your arms to me." "Hungry Ghosts" is primarily pop music, and the themes don't need to be thought-provoking, but the album's adequate lyrics are marred with occasional eye-rollers like these.
To say that "Hungry Ghosts" is pop music is just a best approximation, though. While certainly incorporating pop, "Another Set of Issues" struts with hard funk and minimalist electronic beats. "I Won't Let You Down" dips into disco, and the closing track, "Lullaby," is a mostly a cappella, cool-down lap. But the flow of the album moves confidently forward, never cluttered or confused by its diversity. Despite some lackluster word choice, OK Go has released a sharp, eclectic collection of music by anyone's standards.