No. 15 UCSD begins its NCAA postseason race this Thursday at Triton Ballpark against sixth-seeded Sonoma State.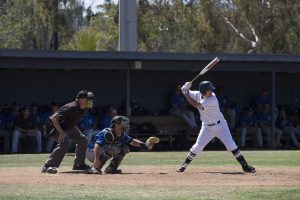 This Thursday, May 15 through Sunday, May 18, the No. 15 UCSD baseball team will host the NCAA West Regionals at Triton Ballpark. The Tritons are the number one seed in the six-team, double-elimination tournament and will face sixth-seeded Sonoma State in the first round of play.
The Tritons enter the national postseason race with serious momentum as they are coming off a perfect 3–0, title-winning performance in the California Collegiate Athletic Association championship tournament. UCSD will be led by its six All-CCAA members: sophomore right-hander Troy Cruz, sophomore right-hander Justin Donatella, senior catcher Nick La Face and junior infielder Erik Lewis — all of whom earned a spot on the first team — along with second-team members, senior left-hander Justin Rahn and junior outfielder Michael Mann.
La Face, who won the Most Valuable Player award in last weekend's conference tournament, is fifth in batting average (.357) and second in RBI (47) in all of CCAA. Rahn trails La Face with 41 RBI, good for third in the league.
UCSD will face strong competition in opponents Cal Poly Pomona (4th seed) and Sonoma State (6), as well as three nationally ranked teams: No. 9 Chico State (2), No. 16 California Baptist University (3), No. 27 Dixie State (5).
The high-powered Triton offense will have a tough matchup in their first game with Sonoma State's right-hander George Asmus (6–1) most likely starting on the mound. Asmus's impressive 1.06 ERA through 11 starts this season leads the entire conference.
Though Sonoma State is an in-conference opponent for UCSD, the Tritons have little experience to draw on against the Seawolves, as the only series scheduled between the two squads was cancelled earlier in the season. As for the other teams, UCSD split one series each between Chico State and Cal Poly Pomona (but beat both in the CCAAs), lost in a one-game matchup to California Baptist and has yet to face Dixie State this season. Despite top-seeding, UCSD cannot afford to overlook any of its fellow NCAA opponents.
UCSD's first game against the Seawolves is scheduled for 7 p.m. on Thursday. If the Tritons win, they will play at 3 p.m. on Friday in the winner's bracket, and if they lose, they will fall to the loser's bracket and play at 11 a.m. on Friday, remaining in championship competition. In the event that they survive the first two days, they will play on Saturday and vie for a spot in the championship contest scheduled for Sunday at 2 p.m.