The Guardian's Anna Stern visits two similarly themed restaurants, samples their best offerings and decides which will win a culinary duel for the last restaurant standing. This week, two Taco Tuesday restaurants go head to head: World Famous vs. Fat Fish. 
World Famous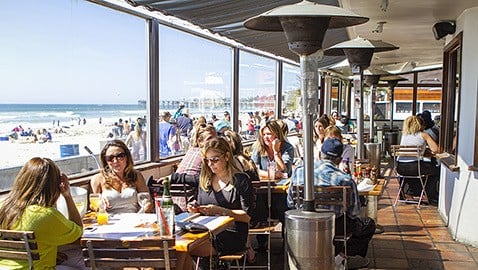 Taco Tuesday is somewhat of an institution in Pacific Beach. Lines usually form out the door with people waiting to score a great deal on tacos and margaritas, so I was surprised when I walked into World Famous during its renowned Taco Tuesday — we only had to wait about five minutes. We were seated directly by a window on the nice, wood-finished tables overlooking the beach, which was only five steps away. The exterior resembles a beachfront shack but is intimate, which gives the place a casual but classy vibe. Though space is tight inside the restaurant, the large windows give the restaurant more of an open feel during the day. And at night, the soft ambiance lighting creates a friendly atmosphere. The tacos offered are shrimp and cost a mere $1.25 (with purchase of an alcoholic or non-alcoholic drink). World Famous doesn't skimp on the shrimp: The tacos are large and full of crispy shrimp with melted cheese on top. World Famous adds a cream sauce that goes nicely with the shrimp's texture, along with fresh lettuce and salsa. My only complaint is that the menu lacks variety and there are no drink specials.
Fat Fish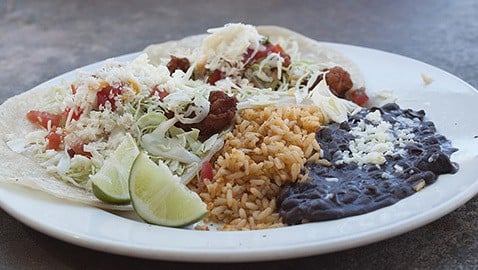 Fat Fish is the place to go to meet up with friends from UCSD, but be prepared for long waits, unless you arrive before 7 or 8 p.m.. Though Fat Fish is less than half a mile away from World Famous, the chances of running into UCSD friends are far higher at Fat Fish. Since Fat Fish is such a hub for UCSD students, the noise levels can get pretty high, which makes the environment more chaotic than World Famous and hard for conversation. However, if you are looking for more variety, Fat Fish is worth the wait. They serve small $1 street tacos (carne asada, carnitas or chicken) and $1.50 shrimp tacos. I ordered the shrimp tacos and found them to be just as good. In fact, they were very similar to World Famous' tacos. Fat Fish's tacos are comparable to World Famous', boasting a delectable combo of shrimp, lettuce, tomatoes, cheese and sour cream sauce. Fat Fish also has a Happy Hour drink special for $2 margaritas from 4 to 6 p.m., but the Ultimate Baja Margarita, priced at $7.75, was worth the few extra bucks. Fat Fish does not skimp out on its tequila, yet the drink was well mixed in a way so that the taste of the tequila was not overpowering.
The Winner: World Famous
Both locations for Taco Tuesday are located in the lively Pacific Beach area where you are bound to have a good time. When it comes down to it though, World Famous is the winner because of the overall dining experience and atmosphere. Although Fat Fish provides more variety in tacos, World Famous comes out on top with its intimate beachfront view, quality tacos and the less chaotic Taco Tuesday atmosphere.