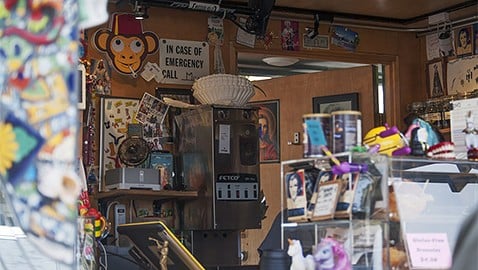 Hours: Monday 7 a.m. to 12 p.m. Tuesday – Sunday 7 a.m. to 6 p.m. Location: 4048 Goldfinch St. San Diego, CA 92103
"Delectable, comestible, unavoidable and unstoppable" is the tagline that the Meshuggah Shack has given itself, and it couldn't be more accurate. The coffee shop — a tiny, spring-green kiosk set up on the quiet corner of Goldfinch Street and Fort Stockton Drive — is not easy to miss. It's supported by four pillars covered in an eclectic arrangement of mosaics, and a copious amount of Virgin Mary and Jesus memorabilia draws you in.
Outward appearance aside, the Meshuggah Shack's menu itself is something to be reckoned with. In addition to basic coffees and teas, the menu offers "Fancy-Schmancy Espresso Drinks," "Iced Blended Yum" and customer favorites like "Mother's Little Helper" ("Crack Head" Chai Latte, steamed milk and Ghirardelli Chocolate sauce) or "Jumpin' Judas" (Coca Cola and two shots of espresso), which are the more experimental drinks on the menu. Some drinks on the menu are accompanied by unique descriptions — the "Cookies and Cream" is described humorously on the menu as "dreamy, possibly a lethal weapon." Rather than an unwanted addition, the quirky drink names and unusual descriptions (don't worry, they aren't at all vague and devoid of ingredient descriptions) add to the charm of the place. The staff is extremely friendly, and the menu itself says that "advice is always free," making it easier to be adventurous with your drink choice. And it doesn't hurt that the drinks themselves are just plain good.
Meshuggah Shack is relatively affordable for the everyday college student, whether s/he is looking for a simply well-made Americano or an intriguing drink, like the Sriracha infused "Serpent's Kiss." All their "Noshes" (pastries), which are delivered daily from San Diego bakery-cafe Bread & Cie, cost $3 or less, and most drinks average around $4. Besides the wide ranging menu, what makes this place different than a typical coffee shop is its setup. The collection of tiny tables that seat three people comfortably is outside, and it's fairly limited — meaning the place isn't the most conducive for studying. The flip side is that rather than isolating yourself to a cellphone and laptop in any other run-of-the-mill coffee chain, the outdoor seating, corner location and welcoming environment means an authentic, local, neighborhood vibe and the opportunity to interact with people easily and freely with the extremely open layout at Meshuggah Shack.