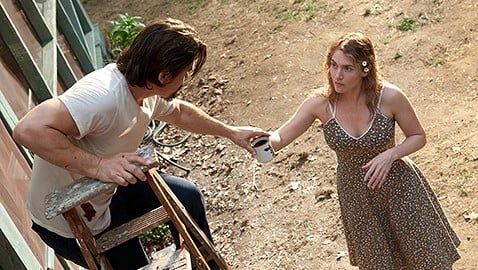 Director Jason Reitman offers a paradoxically well-made yet remarkably colorless film that results in mediocrity.
Directed by
Jason Reitman
Starring
Kate Winslet, Josh Brolin, Gattlin Griffith, Tobey Maguire
Rated
PG-13
Release Date
Jan. 31
Rating
2.5/5
The month of January is infamously known as the dump-month for Hollywood's garbage films, right after Oscar contenders are screened and too early for summer blockbusters. "Labor Day" was one of the better films to hit theaters in January, but that isn't saying much, given its competition. Based on the Joyce Maynard novel of the same name, "Labor Day" was written and directed by Jason Reitman, known for his quirky, critically acclaimed, artistic comedies like "Juno," "Up in the Air" and "Thank You for Smoking." With "Labor Day," Reitman departs from his well-known whimsical style and aims for an intense romantic drama with elements of a coming-of-age story and a home invasion thriller. Unfortunately, these exciting elements never come to fruition. Reitman set out to make an Oscar winner, casting top-tier actors — including Academy Award winner Kate Winslet and nominee Josh Brolin — as he hoped to release the film alongside potential award competitors in December. But after poor reception at last year's film festivals, Paramount shifted the release away from the Christmas holiday to the January rubbish bin, understanding that this film was a losing venture.
"Labor Day" tells the story of a depressed mother, Adele (Winslet), and her son (Griffith), who are held hostage in their own home after they give escaped criminal Frank (Brolin) a ride. This begins as a potentially interesting home invasion thriller, but after a predictable case of Stockholm syndrome, Adele falls for Frank, and this film heads in the direction of a Nicholas Sparks story and eventually surpasses it, turning into one of the most schmaltzy romance films in a while. At first, Frank is helpful around the house, doing chores and cooking delicious food. It quickly becomes obvious that Adele is going to need him in the bedroom for something other than changing the sheets or washing the windows. This concept would generally lend itself nicely to a Lifetime Channel original film. The whole thing was a far-fetched, ridiculous melodrama.
Reitman's direction and execution almost saves this film. There are a few rather tense, edge-of-your-seat moments — the first scene involves a bleeding Brolin coercing an emotionally frail Winslet into giving him a ride, and it feels like a terrifying setup for a thriller. But engaging scenes in the rest of the film are sparse. With an experienced director and talented actors with impressive IMDb resumes, "Labor Day" should've been a smarter, more interesting and more insightful film.
Unlike Reitman's past films, "Labor Day" lacked flair, wit or anything that would have made this drama worthwhile. This film was simply bland and for the most part, very predictable. This film was certainly not an easy thing to watch. Like its namesake, "Labor Day" is a labor to sit through. The almost two-hour long runtime of "Labor Day" is punishing, and it is difficult not to get restless, especially when a significant portion of this film involves longing stares and doing banal chores. All of these dull and banal moments are filmed well, but Jason Reitman isn't quite able to save it.