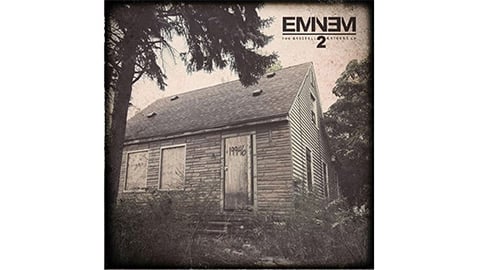 Release Date: Nov. 5, 2013 Rating: 5/10
Eminem sounds hit-and-miss in his sequel to the Marshall Mathers LP
Eminem, now in his 40s and obviously past his prime — his albums have gotten progressively worse — set the bar high for himself releasing a follow-up to his 13-year-old magnum opus. Covering all sorts of ground and occasionally revisiting its predecessor in 78 minutes, his eighth studio album, "The Marshall Mathers LP 2," offers a lot to absorb. Eminem explores new instrumental and lyrical territory with moderate success — which, frankly, is more than he did on his two most recent albums, "Relapse" and "Recovery," which both lacked lyrical substance, filled instead with lame jabs at rival celebrities.
Production-wise, the album is decent, with a variety of instrumental backings that range from dubstep to arena rock. Some tracks sound like homogenized, already-done, built-for-radio junk: In particular, "The Monster," his collaboration with Rihanna, drags with a formulaic build-up and tired melody. Other tracks, like "So Much Better," feel like they belong on a vintage Eminem LP. "Rhyme or Reason" and "Love Game," two of the strongest tracks on the album, sample British Invasion artists, showcasing Eminem's ability to borrow from a completely different genre to build something wholly new and riveting.
Eminem flaunts his usual flow and cadence: In the boldly- but perhaps justifiably-named single "Rap God," he effortlessly rifles off 101 words in a mere 16 seconds. He sometimes compromises lyrical integrity and coherence for the sake of preserving rhymes — leading to a few nonsensical streams of onomatopoeia. But beneath the confusion lie some unexpected, self-aware pearls: In "Rap God," for example, Eminem raps, "So I wanna make sure somewhere in this chicken scratch I scribble and doodle/ Enough rhymes to maybe try to help get some people through tough times."
His most honest and touching track, "Headlights," is held back by collaborator fun. frontman Nate Ruess. Eminem gets as real as ever on the song, forgiving his mother and expressing true regret over their distant relationship: "'Cause to this day we remain estranged and I hate it though/ 'Cause you ain't even get to witness your grandbaby's growth." But Ruess' contributions feel invasive: He sings loudly on the hook — sounding so processed that it's grating — and he undermines the way Eminem pours out his emotions in each verse.
"The Marshall Mathers LP 2" doesn't live up to the original, but Eminem does what he can, providing a sense of nostalgia while managing not to linger. He produces an adequate record — certainly a respectable addition to his discography — and at this point, that's as much as you could ask.