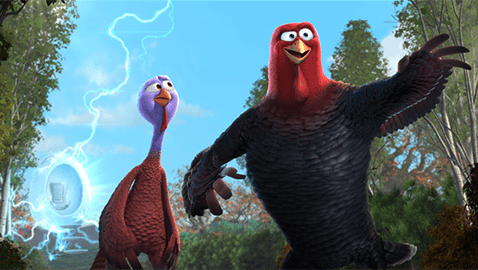 Directed by
Jimmy Hayward
Starring
Owen Wilson, Woody Harrelson, Amy Poehler
Release Date
Nov. 1
Rating
3/10
Festive children's movie is riddled with bad cliches and an unrealistic storyline that will make most cringe
This Thanksgiving, if you manage not to see Jimmy Hayward's new holiday movie, "Free Birds," you will be thankful.
Hayward's ("Horton Hears a Who") new animated children's movie about two turkeys trying to prevent turkeys from being the traditional Thanksgiving meal was disorganized and had too much going on. The film is filled with outrageous events that barely make sense and didn't create a story that was worth spending money to see.
The plot follows Reggie (Owen Wilson), a turkey who doesn't feel as though he fits in with his fellow birds on the farm and tries to educate the turkeys about the dangers of getting eaten. By an unrealistic and out-of-the-blue plot twist he finds himself as the pardoned Thanksgiving turkey. Being swept off with the President of the United States, he finds himself living a life of pizza and movies. By another random change, Reggie then finds himself travelling back in time to rescue turkeys from becoming the main dish to the Pilgrims and Native Americans on the first Thanksgiving.
Hayward made his directorial debut in 2008 with the well-loved Dr. Seuss film adaptation "Horton Hears a Who." The environmentalist themes and humans' impact on the earth from "Horton" can be seen in his new film. But the screenwriting, done by Hayward as well, was not up to par with his first film. "Free Birds" went through three undeveloped major plot lines and even more minor ones within 90 minutes. This causes the movie to feel sporadic and will leave the audience confused and frustrated.
Hayward's script made no room for character development. Reggie began the story working for a cause to help but gets lazy and is only motivated by a borderline delusional turkey, Jake, and only when Reggie finds romance does he work for a good cause.
Heading for the 1600s, Reggie and his antagonist Jake (Woody Harrelson) embark on an adventure in a time machine called S.T.E.V.E. (George Takei). The movie tries to dumb down the concept of time travel and the idea of the space-time continuum with no luck. This crude attempt forces a questionable plot and doesn't flow with the rest of the movie.
Reggie's motivations don't line up with the agenda of the movie. While the movie and all of the characters are trying to save the other turkeys and work together as a unit to save each other, Reggie is focused on himself and Jenny (Amy Poehler), a wonky-eyed female turkey that Reggie falls for. The change of motivation and the lack of structure throughout the movie lead to a more bewildering plot.
Along with the flaws in the plot and writing, this movie provides no real moral for children to take away. While the idea of protecting the environment and not abusing poultry for our benefit is somewhat informative, they are not applicable to children.
The animation made it very apparent that there was a difference between different groups of turkeys and humans. Racial stereotypes show a clear divide and present children with an unrealistic ideal of race in society.
The movie has familiar remnants of other well-known children's movies. Aspects from Disney movies and overused plot lines leaves viewers feeling cheated by this cheap knock-off from the many well-done films of our past. It was not worth seeing and parents should think twice before taking their children to a movie with such a fierce agenda that takes over the development of any kind of plot. Save your money and spend Thanksgiving with the family.