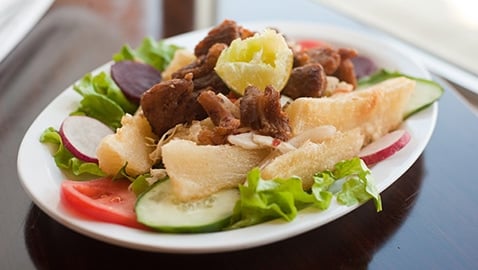 Hours 
Mon. – Sat. 9 a.m. to 9 p.m., Sun. 9 a.m. to 8 p.m.
Location 
2845 Imperial Ave, San Diego, CA 92102
Recommended 
Pupusas
El Salvadoreno, an authentic Salvadorian restaurant, is a pleasant surprise wrapped up in a tough exterior. It's located in Grant Hill, a working-class neighborhood near National City, and the outside of the restaurant looks more like an abandoned warehouse — complete with bars barricading the windows and doors — than the quaint, homey, family-owned atmosphere you'll find inside.
The restaurant's specialty is its pupusas ($2.25), stuffed corn tortillas made with quesillo cheese that come filled with beans, meat and vegetables and topped with curtido (pickled cabbage). This dish is great for college students on a budget: It's cheap, and it fills you up quickly. Meat lovers will enjoy the pupusas de chicharron (pork), or, if you're vegetarian, try the pupusa y jalapeno or the pupusa y loroco (an edible flower stem). For dessert, the platano frito con crema ($4.50) — fried bananas covered in sugar, with a sour cream dip on the side — won't disappoint.
The problem with many restaurant's pupusas is that the food is either too greasy or not cooked long enough to melt the cheese. El Salvadoreno's pupusas have a slight crunch on the outside and a gooey-cheesy inside, minus the stomachache later in the day. Salvadorian food is heavy. Although the pupusas are good, and you'll want to stuff your face, limit yourself to two or three, especially if you're going to order dessert. The platano frito con crema comes with just three bananas cut in half and fried, but what the dish lacks in quantity, it makes up for in denseness.
The ensalada (pineapple juice and fruit chunks) and the horchata salvadorena are great drinks, so don't waste your time with water. If you get the horchata, be warned that Salvadoran horchata isn't the watery, and over-sweetened Mexican horchata that most San Diegans are familiar with. Salvadoran horchata is thick, grainy and delicately sweet.
When you enter the restaurant, you might not be greeted or seated right away, as the restaurant has a small staff. If you're Hispanic, be prepared for the waiters speak to you in Spanish, but don't worry, everyone's fluent in English as well. The menu is written in Spanish, but there are English translations below, along with a photo of the dish to give you a better idea of what you're about to eat.
Driving all the way to Grand Hill for some food may be too much for some, so make the most out of your trip. Chicano Park, a nationally recognized Mexican heritage park located in Barrio Logan, is right next door.
If you want to explore San Diego and experiment with foods from new cultures, El Salvadoreno is the place to go. From its cheap prices to its hearty dishes, it's great for college students who've had to tighten their purse strings without sacrificing quality.