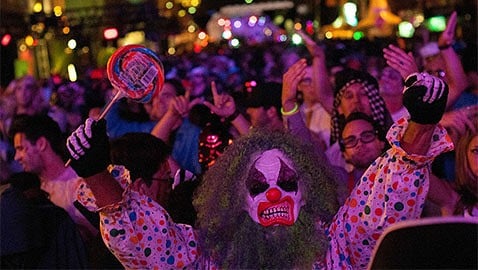 Don't miss the tricks and treats of Halloween in SD
With the promise of extra spooks and scares for this year's partygoers, two great events have collaborated for San Diego's 13th annual Zombie Crawl and Monster Bash Saturday, Oct. 26. Both are taking place within San Diego's Gaslamp Quarter. The San Diego Zombie Crawl offers premier access to 22 different clubs and bars in the Gaslamp Quarter. The Monster Bash has a lineup of 17 DJs playing at three different clubs and also boasts a costume contest of epic proportions, giving out a $5,000 prize to the best dressed. With sections of the Gaslamp closed off completely for the event, the Zombie Crawl and Monster Bash are sure to be one of San Diego's most promising Halloween events.
You don't have to be dressed like a zombie to partake in the Zombie Crawl, but you may need the relentless stamina of one by the end of the night. Of the 22 venues included in this pub crawl, 15 include a complimentary welcome shot upon entry. All located conveniently up and down Fifth Avenue, bars like Analog, Frauds & Swindlers, and RA Sushi all offer great food and drink deals to zombie-crawlers. A detailed map, provided upon entry, allows guests to follow one of the many prearranged routes or allows them to devise a unique route of their own. The pre-party starts at Frauds & Swindlers at 5 p.m. and branches off to the other venues throughout the night. The event officially runs until 2 a.m.
For those who are still alive and kicking by sunrise, tickets to the crawl include access to one final hurrah: a Crack of Dawn after-party at the Side Bar Lounge from 5 a.m. to 10 a.m.
Conveniently located a couple blocks away, Monster Bash covers eight blocks of downtown with three separate stages for music, food and drink.
Some of the acts featured on the Gaslamp Asylum Main Stage, Birds of Prey Stage, and Masquerade Stage include DJ Dani Deahl, Kids at the Bar, G-Roy, Von Kiss, and DJ Beatnick. Be sure to get in line for the shuttles on your way out, because free rides are offered before 12:30 a.m. and included in the price of each ticket.
The Zombie Crawl and Monster Bash cost $60 and $35, respectively, or $80 if bought together as a combined ticket. Although $80 might seem a bit steep for a college student, a ticket to the Zombie Crawl includes alcoholic beverages along with unlimited access to great music and food — it's worth the splurge for an unforgettable Halloween experience.