Chinese
Red Moon Noodle House
4646 Convoy St.
  Mon. 11:30 a.m. to 3 p.m. Tues. – Sat. 11:30 a.m. to 9:30 p.m. Sun. 11:30 a.m. to 9 p.m.
If you like Panda Express' take on Chinese food, you'll love the authenticated version. Slightly overlooked for the plaza that it's in, Red Moon will still serve you quality food from a family-owned restaurant. The menu is short, which makes choosing easy, but it is noted that the dumpling soup is not listed (and yet very good). Also look out for Singapore-style noodles, xiao long bao and the milk tea, which is much stronger and more flavorful than what you'd pick up at a local tea shop.
M.I. Tea Express
7655 Clairemont Mesa Blvd.
Mon. – Sun. 11 a.m. to 10 p.m.
The location is fairly small, and the red-and-white counter where you order draws memories of In-N-Out, not really a place where you would buy a favorite tea. But the boba is what you're there for, and that's exactly what you get. Escape from the codependent relationship you have with TapEx in Price Center and make M.I. Tea Express your mistress. She has a variety of different flavors to try (Mojito Green Tea, Golden Matcha, Ocean Breeze) and even a drink with rose petals (Rose Blossom) that TapEx does not have to offer to customers looking for something new.
Italian
The Godfather Restaurant
7878 Clairemont Mesa Blvd.
Mon. – Thurs. 11 a.m. to 2:30 p.m., 5 p.m. to 10 p.m.
Fri. 11 a.m. to 2:30 p.m., 5 p.m. to 10 p.m.
Sat. 5 p.m. to 10:30 p.m.
Sun. 4 p.m. to 10 p.m.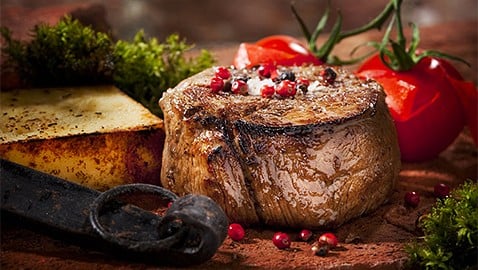 If you need an excuse for a posh restaurant, The Godfather is the place to go. The fact that there is a courtyard, a fountain, potted plants and benches brings it a step up from a typical restaurant. As you enter the double wooden doors, employees dressed in formal attire will greet, seat and serve you. The menu stays true to Italian cuisine in an American context, so it won't feel too familiar or too foreign. A memorable part of your dinner will be the complimentary fried zucchini appetizer, far more exciting than a basic bread-and-butter starter.
Korean
Zion Market
7655 Clairemont Mesa Blvd.
Mon. – Sat. 9 a.m. to 9 p.m.
Sun. 9 a.m. to 8 p.m.
Take a step back from Ralphs and Trader Joe's and do grocery shopping Korean-style. Zion Market has the basic groceries that American produce markets carry (although not name-brand) in addition to hordes of Korean fare, fresh and preserved. They've got instant noodles you've never heard of and cookies that are like Oreos with strange fillings flavored like tea and fruit. The meats section carries products you'll find served at Korean barbeque restaurants, making those particular cuts and marinated meats accessible for consumption at home. And although Zion may be a further drive for most UCSD students, the change of pace in products may be well worth it.
Karaoke 101
7578 Clairemont Mesa Blvd.
Tues. – Thurs., Sun. 5 p.m. to 1 a.m.
Fri. – Sat. 5 p.m. to 2 a.m.
Don't lie to yourself — singing while slightly (or extremely) intoxicated is the best. And karaoke is the perfect place to do it. Karaoke 101 can accommodate large groups (people have had parties of approximately 50). Guests can bring food and drinks from home (so minors won't have to be as discrete and money can go towards other things). Karaoke 101 has may English-friendly on the songs. If those aren't the cues you need to get you to belt out to One Direction, karaoke might not be your thing.
Kogi BBQ
5447 Kearny Villa Blvd.
Mon. – Fri. 5 p.m. to 12 a.m.
Sat. – Sun. 12 p.m. to 12 a.m.
Although Manna may be the place to go for anyone's Korean barbeque fix, Kogi does it just the same and at less inconvenience for yourself. A little more under the radar than its popular — and pricier — contemporary, waiting to sit down at Kogi will surely not exceed some wait times of 45 minutes at Manna. Kogi has side dishes that most other Korean barbecue joints don't offer, among them cheese corn, kimchi pancakes and kimchi fried rice. If you can wait late enough to eat, you can take advantage of Kogi's $15.99 happy hour special, offered every day from 9 p.m. until closing.
Thai
Koon Thai Kitchen
3860 Convoy St.
Sun. – Thurs. 11 a.m. to 10 p.m.
Fri. – Sat. 11 a.m. to 11 p.m.
Koon Thai has your obvious dishes — curries, pad thai, tom yum — but extends well beyond that. The diverse menu of over 50 dishes will keep your palate busy. Notable menu items are the thai chicken jerky, goong sarong (fried shrimp wrapped in egg noodle), yum mama (noodles mixed with chicken, shrimp and topped with chili and lime) and the rad na (flat rice noodle with Chinese broccoli, Thai gravy). Koon Thai is also paired with a traditional live singer on Friday and Saturday evenings. Koon also has a  remarkably inexpensive lunch special ($1.50 appetizers, entrees start at $5.45) offered every Monday through Friday.
Vietnamese
Phuong Tran
4170 Convoy St.
Mon. – Thurs., Sun. 10 a.m. to 9:30 p.m.
Fri. – Sat. 10 a.m. to 10 p.m. 
Simple, tasteful and a little bit of an accent — Vietnamese cuisine just how you want it. Phuong Tran will give you what you want at a good price and in a timely manner. All you need to do is come hungry and with an open mind to try more foreign menu items, like bun bo hue (beef vermicelli noodle in spicy broth) and ca kho (catfish sauteed in fish sauce).