With all the wonders that San Diego offers, it can feel frustratingly inaccessible for those who do not have a reliable form of transportation. Luckily, the Metropolitan Transit System runs directly to UCSD so students have the opportunity to take a weekend outing and get to see why San Diego, beyond campus, is truly a unique and exciting place to be.
201/202
These two buses, which run from the bus stops near Gilman Parking Structure (traveling counterclockwise and clockwise, respectively), will take you in a small loop around La Jolla. Along the route is the La Jolla Village Square shopping center, which has food (California Pizza Kitchen, BJ's Restaurant and Brewhouse, Sprinkles Cupcakes and more), an AMC movie theater and grocery stores (Ralphs and the beloved Trader Joe's). If you stay on the bus past the shopping plaza, University Towne Center will be your next noteworthy destination. The recently rennovated outdoor mall has the usual assortment of fast-ish food restaurants, stores and entertainment in a compact location.
30
Accessible from multiple bus stops around campus (the VA medical center, Revelle College), the Route 30 serves as your route to reach Downtown La Jolla and the surrounding area. En route to Downtown, be sure to stop by La Jolla Shores if you're in the mood to hit the beach. Further along the route will lead you to many notable food stop favorites of UCSD students (George's at the Cove, The Cottage, Cody's and Puesto). For those who want to enjoy a more visceral experience, take a ride down to Pacific Beach, where tatto shops are as common as restaurants and bars on the packed Garnet strip — just make sure you'll have a ride back because the MTS won't run when you're done. Download the app Lyft and grab a ride back with a car adorning a pink mustache.
101
Accessible from the bus stops next to Gilman Parking Structure, the Route 101 is the bus to ride for Southern California locals. The 101 runs by the Solana Beach Amtrak station for those who want to go home for the weekend but can't catch a ride. Other than going home, the 101 runs through Del Mar, Encinitas and Carlsbad — all places worth visiting for food and cultural events.
 921
Accessible from the VA medical center and near Gilman Parking Structure, the 921 is the bus to take if you want to head east toward Mira Mesa. While Mira Mesa isn't exactly well known for shopping malls and similar attractions, what it has to offer is an impressive selection of ethnic cuisine. Punjabi Tandoor (Indian), Siam Nara (Thai), Pho Ca Dao (Vietnamese) and Kebab Shop (Turkish) are all easily accessible along the 921 and will confirm Mira Mesa as a worthy place to visit when you and your friends want to try something new.
41
Accessible from the bus stops near the Gilman parking structure, one of the first stops that should be known to all UCSD students is Vallarta Express. This 24/7 fast-food Mexican establishment is a must-try for the tired, the poor and the wasted. From the 41, bus riders can also access Route 44 or Route 27 to get to Convoy Street in Kearny Mesa. This locale is a well-known center of Asian commerce, with a good supply of restaurants and specialty markets.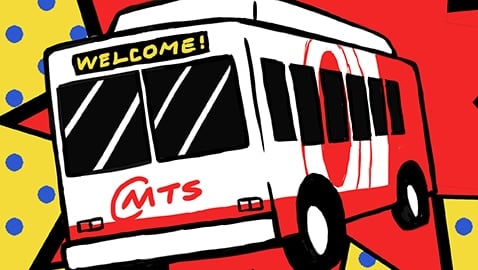 41
Taking the 41 to the end of its line will lead students to the vast outdoor shopping mall, Fashion Valley. UTC won't likely be sufficient to provide shoppers the most satisfying consumer experience, so take a day trip to Fashion Valley to explore countless shops and enjoy the high-quality dining experience that's provided in the area.
 150
Traveling from the VA medical center and bus stops near Gilman Parking Structure, the 150 will bring you into the heart of San Diego. A stop certainly worth taking is the one at the very end of the line at Balboa Park. Built in 1868 and a landmark of San Diego ever since, the park serves as a cultural hub for art, architecture and history. Balboa Park is also a convenient location for those who want to branch out and explore Downtown San Diego, where the Embarcadero and Gaslamp Quarter are not too far out of reach.