If Councilmembers favor the bill, the future of the wage will depend upon the votes of San Diego residents.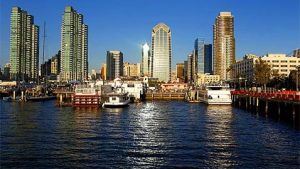 The San Diego City Council is slated to vote on Monday, Oct. 20 on whether to revoke a minimum wage increase or to take the matter to the public forum. For the 200,000 San Diegan residents who work at the current minimum wage, this translates to a stalling of the wage hike, which will not be applied in January as previously announced by the city. Rather, the decision to increase the minimum wage to $11.50 over the next three years will be left to the public vote on Monday — this will decidedeciding whether the measure will be placed on the June 2016 ballot or be withdrawn entirely.
Some legislators are optimistic the bill will have a favorable outcome for supporters, indicated by a recent poll that showed 63 percent of residents support a wage hike. City Council president Todd Gloria told reporters last week that he supports the bill and was "confident voters will approve this necessary and common sense increase to the minimum wage." Until then, the San Diego minimum wage will stay at $9.  
The San Diego Small Business Coalition is one of the non-governmental organizations that have spoken out against a wage hike. They and other groups helped garner enough signatures to pass the referendum in order to force a public vote — effectively vetoing the city council's action. Some small business owners see the wage increase as ultimately damaging overall, regardless of the extra money that could be placed in worker's, i.e. consumer's, pockets. 
"I don't know what I can do other than cutting back hours," Seabreeze Nautical Books owner Ann Kinner said. 
Many bookstores have suffered more than most businesses in an increasingly digital world — Seabreeze has a total of one employee — and Kinner is not alone in her concern. 
Former mayor and current President and CEO of the San Diego Regional Chamber of Commerce Jerry Sanders have historically voted against any wage hike. 
"The money to fund this increase is not magic money — it has to come from somewhere," said Sanders in a recent Union-Tribune article titled "Hiking Labor Costs Will Hurt San Diego Economy."
 "For small businesses struggling to get by, it will come from cuts in hours or benefits, the elimination of jobs and increased prices," he wrote. "And, for many businesses, it will mean they will be forced to close their doors, which means fewer businesses creating jobs and fewer San Diegans with opportunities to work."
The long-term effects of the wage increase in other areas of the state remain to be seen. However, unemployment has decreased from 9 percent to 7.4 percent when a wage increase to $9 was announced back in June 2014.