After a week of midterms and my GPA getting absolutely pummeled, I decided a proper munch was what I needed. I've wanted to go to RakiRaki Ramen for months, and I decided this would be the week to go. The real reason was because my friend was craving ramen, and since he has the car, his wish was my command. 
RakiRaki Ramen is the well-known brainchild of former fashion designer and Japanese chef Junya Watanabe. The original location in Convoy opened in 2012 and has now expanded to locations in Mira Mesa and Rancho Penasquitos. They offer a plethora of good eats such as ramen, tsukemen (Japanese dip ramen), sushi, curry plates, donburi (Japanese rice bowl), and various Japanese starters. Alcoholic beverages like sake and soju are also served; however, I could not partake as I am a law-abiding citizen of the United States of America and not over the age of 21. Also, as with most restaurants in Convoy, expect a long wait time. My friends and I waited half an hour despite it being a Thursday night. 
Upon stepping into the restaurant, I was amazed with the decor. Wooden planks adorned both the walls and ceiling; fake foliage was strewn from the ceiling, transporting me to the plant section of Home Depot or a Japanese forest. The main centerpiece was the open kitchen where you could see the chefs preparing sushi to order. The layout felt inviting, modern, and perfect for the 'gram.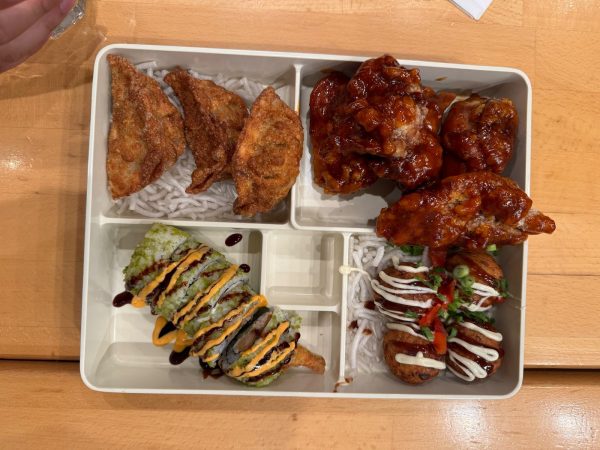 I ordered the Original Hakata Tonkotsu Ramen alongside Junya's Crispy Karaage / RakiRaki Dream Come True Bento Box to split among my friends (Yes, I have friends). The service was relatively fast, with our food coming out 10 minutes after we ordered. 
The bento box appetizer came first, and on first impression, it seemed a bit small for the $30 we paid. It had four components: crispy karaage smothered with a mild spicy-sweet sauce, three jumbo gyoza perched on top of a bed of rice puffs, four takoyaki balls dressed up with Kewpie mayo and takoyaki sauce, and half of their Rakiraki roll which consisted of shrimp tempura, lumps of crab, a couple cucumber logs, and a smear of cream cheese. The karaage was quite good — moist chunks of chicken thigh encased by an ultra-crispy shell of seasoned batter. The sauce reminded me of gochujang with a nice afterburn; however, I would've preferred the sauce as a dip rather than have it smothered on top of the chicken. The takoyaki balls were mediocre and lacked octopus. Perhaps we're in an octopus shortage. While the gyozas were filled to the brim with filling and had an audible crunch as you bit into them, not much more could be said about them. Lastly, the sushi was also average. Think of a sushi roll from The Bistro at Seventh College but more refined and with better ingredients. I'd get the karaage again, but as for the rest, absolutely not.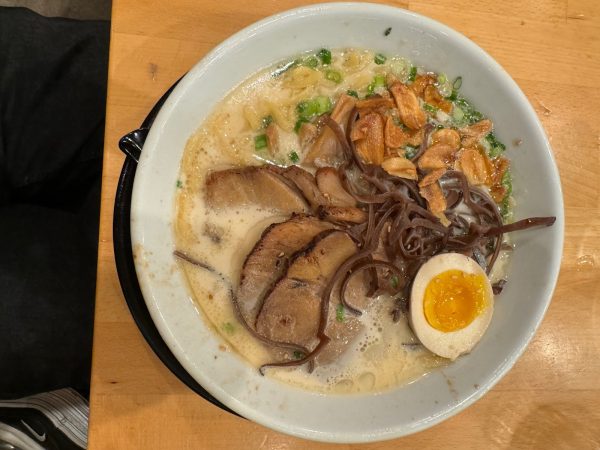 As we finished up the last morsels of our appetizer, the star of the show arrived. The ramen was massive and consisted of handmade noodles, slabs of charred pork char siu, slivers of bamboo shoots, strings of wakame seaweed, half of a soft-boiled soy sauce egg, a sprinkling of fried garlic chips, and a fistful of green onions and bean sprouts all soaking in a luxurious and decadent pork broth. The ramen was quite good. The broth was pure umami, and the noodles were cooked perfectly. However, the garlic chips were an odd addition. While I understand their idea of including garlic to enhance taste, the execution was off. The chips were rock hard and were in extreme contrast to the rest of the dish texturally. Additionally, the pork was quite dry due to it being severely overcooked — truly a shame for such a legendary spot. Lastly, the egg was quite cold. Obviously, they prepare it before service, but they definitely could've warmed it up prior to serving it. These small mistakes add up and really differentiate great restaurants from the mediocre ones. 
While RakiRaki Ramen serves up a hearty bowl of ramen in an intimate setting, their mediocre bento box and culinary mishaps prevent it from being one of the elite Asian restaurants in the hyper-competitive Convoy area. 
Cuisine: Japanese
Address: 4646 Convoy St. #102-A San Diego, CA 92111
Rating: 8/10