Beloved Aussie, Blue, Passes Shortly Following Death of "Best Friend" Sunny
On March 23, the family of alumnus Sam Knight said goodbye to Blue, the 15-year-old heterochromatic Australian Shepherd whose daily strolls on UC San Diego's campus touched the hearts of many.
"It was her time and we'll miss her more than we can say," he said.
Knight said that Blue's health declined slowly, then rapidly after her best friend Sunny's recent passing. During those weeks, Blue and Knight continued their travels together through campus's Snake Path and Library Walk. When Blue could not walk as well, she rolled alongside Knight in the same red radio flyer wagon that she traveled in while recovering from spinal surgery for a broken back and paralyzed legs in 2019. She and Knight enjoyed a brief, final excursion on the day before her passing. 
The duo's passing leaves a large paw print on the heart of the campus. 
Knight remarked that in Blue's final weeks, one day while he was on campus with her in her wagon, he was asked where Sunny was by a community member greeting Blue. When Knight told her he had passed away, he said she began crying as well. 
"Now I'm comforting her!" Knight joked softly. "And we're both going to have wet hair!"
Knight and family have recently adopted two young Aussies: Sophie, an exuberant 18-week-old pup with endearing heterochromatic eyes, and Hagrid, a 3-year-old whose gentle nature fits his name like a glove. The trio will begin to explore Triton grounds together in the near future. 
---
The following excerpt highlights the remarkability of Blue's strength and impact, and is pulled from our recent article: "Crossing the Rainbow Bridge: Alumnus Sam Knight Discusses Sunny's Paw Print on UCSD's Heart, Continues Daily Strolls with Blue." More can be read about her, her best friend Sunny, and Knight's history on UCSD's campus here.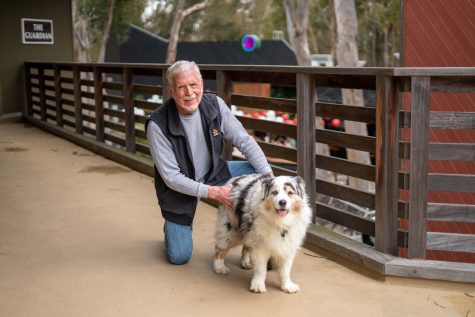 To Knight, Blue [was] a "miracle dog." 
In August 2019, Blue was with Knight in a car crash that left her with a broken back and completely paralyzed legs that required spinal surgery. With time, swim therapy, and a wheelchair, by January 2020, she was walking again. In the meantime, they still went on their walks — with Knight towing Blue in a red radio flyer wagon, and Blue still ambling into the Price Center Fountain on hot fall days.
Knight reflected fondly on a day at the beginning of a school year when Blue comforted a distressed student donning a baseball cap that hid her tears.  
"She crouched down and was giving Blue some lovin', but I could tell that she was crying," Knight said. "I could tell that she was crying and the crying turned into sobs. She was just getting so much comfort from being able to sob into Blue's coat and so I asked her what the problems were and could I help… and she was just overwhelmed by everything."
He recently met the student again, who properly introduced herself to him. Having been comforted by dogs in the way Blue comforted her that day, Knight feels grateful to see the positive impact his dogs have on others. 
Image Courtesy of Sam Knight