Professor Tricia Gallagher-Geurtsen and Her Fight for Equity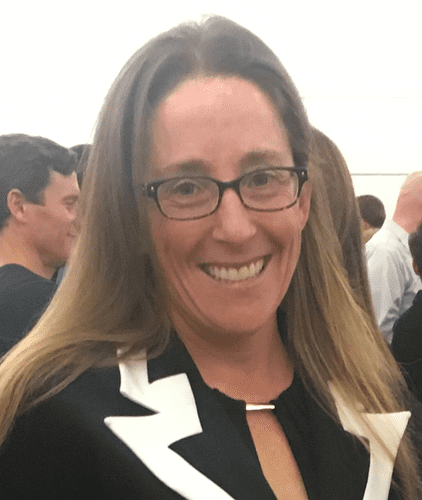 For nearly all her life, professor Tricia Gallagher-Geurtsen has been working hard at not only improving herself as a teacher but the educational system as well. Whether this effort comes through educating future educators or taking a firm stance at her children's schools, Gallagher-Geurtsen fights for equity and equality in the "steel-walled" system.
At the end of a long hall and around the corner, on the third floor of Pepper Canyon Hall, stands the office of professor Tricia Gallagher-Geurtsen, one of the several education studies professors that work here at UC San Diego. The office itself is bare, holding nothing more than a few desks, an industrial overhead light, and Gallagher-Geurtsen's belongings stacked neatly in the corner. Yet, despite the office's empty feel, it is Gallagher-Geurtsen herself that seems to bring a new energy and life into the room.  
However, this situation seems to represent Gallagher-Geurtsen well. Placed in communities and institutions that are full of inequities and inequalities, Gallagher-Geurtsen tries to bring change and spirit. Whether these efforts come through teaching both students and educators more about the inequities in the education system, or fighting against tracking (the practice of separating students by ability) in her son's middle-school mathematics program, she leaves a definitive mark on the community and people around her.
Born in Northern California and having spent her undergraduate years at UCSD, Gallagher-Geurtsen has spent the majority of her life in California. In fact, it is here that she first became interested in education; namely, through the Partners at Learning course offered here at UCSD.
"I took the Partners at Learning course and fell in love with the idea of becoming a teacher. … I was assigned to work with a fifth grader in Oceanside, a Latina … and I just felt she wasn't doing well in school. And I felt if I could just get to know her and her family and show her that I cared, that I could really get her to really dig into school and do well. Because I knew that doing well in school was her ticket to having choices in her life." Gallagher-Geurtsen said.
However, it was not only her experiences with teaching that got her interested in education but also her interactions with her own educators; namely, her previous professor at UCSD, Irene Villanueva. Inspired by her conversations with Villanueva, Gallagher-Geurtsen not only found a passion for education but also for social justice and fighting inequity.
"She really helped me see from new perspectives and kind of shook me out of my privilege and showed me how important it was to care about students, and how beautiful bilingualism is — just how amazingly beautiful it is," Gallagher-Geurtsen said. "And so I really think that helped me become the educator I've become."
It is this fascination and respect for bilingualism that inspired Gallagher-Geurtsen to pursue education even further by obtaining her Bilingual, Crosscultural, Language and Academic Development, and eventually her master's degree. In fact, it was her disagreement with the passing of Proposition 227 (a statute passed in 1998 limiting bilingual education in California) and her strong stance in favor of bilingual education that drove her to to pursue her master's degree in the first place. According to Gallagher-Geurtsen, it was her way of trying to understand why someone would want a monolingual education.
Since then, she has worked hard to fight for bilingualism and multiethnic representation in schools. One of the projects she has most recently been working on is the movement to push for the availability of ethnic studies courses in all schools in California. As difficult as this proposition may sound, Gallagher-Geurtsen is starting small with middle and elementary schools in San Diego. As Chair of the San Diego Unified District's Ethnic Studies Advisory Committee, Gallagher-Geurtsen has been working hard at this project since its inception last year.
Read More:
Professor Tyagarajan Somasundaram: Global Perspectives in Business
The Enrollment Conundrum at UCSD
Inside the World of Christian Student Orgs
The goal for the committee, Gallagher-Geurtsen said, is to create opportunities and classes for students to learn more about their individual and collective histories. This program not only takes the form of ethnic studies classes but is intended to be seen even in mathematics classes, so that all subjects are taught from multiple perspectives. According to Gallagher-Geurtsen, this will produce active citizens who are aware of their own histories and of the powerful and important people of color in their lives.
"I think it's so important that all of our students know the real histories of different ethnic groups in our state, in our country, in our world, so that we can come up with real solutions that humanize and decolonize all peoples, so that everyone has a chance at a happy and free life," Gallagher-Geurtsen said. "I can say that students who are in that course are saying things like 'I had no idea about my own history in this country and in California; I had no idea how my parents and their ancestors had to struggle to get us to where we are and how hard they work, and now I want to know more. I want to learn more.' These are students who are really hungry for education precisely because of taking this ethnic studies course in the ninth grade, in the beginning of high school, when it really counts."
In many ways, though, this passion for social justice is not just limited to her work but spills over into her personal life as well. Home for Tricia Gallagher-Geurtsen is in her husband and three children, ages 13, 11, and 7. When she talks about them, she does so with a small smile on her face, saying:
"They go to public schools, and they're the most amazing and the most challenging job I've ever had. … I just like having downtime with them, talking together, hearing about their day, their crazy ideas — that's probably my favorite thing, is hearing about their crazy ideas. Because they all have crazy ideas, wonderful, crazy ideas."
Yet her passion for education, married with her desire to see a better future for her kids, is such that she admits it is often hard for her not to be critical of her own children's schools. In one case in particular, Gallagher-Geurtsen identified what she affirmed to be an "egregious problem" in her son's middle school math program. This tracking program is so extensive in the San Diego Unified School District that students —including Gallagher-Geurtsen's son — had little to no opportunity to move to the higher math programs despite being capable and smart enough to succeed. Essentially, a single math test taken at the end of elementary school would be the determining factor of a child's entire future in math.
"If you just look at the different pieces of the district's policy by themselves, they look innocent and fair," Gallagher-Geurtsen said. "But if you put it all together, and you look at the data, and you start looking for the structures of power in the district's math pathways, they're more like sort of steel-lined walkways that you can't get over. And if you start asking questions and saying, 'Hey, show me the data, show me how many kids actually change tracks in math, and what color is their skin?' Then you reveal this structure that, intentionally or not, is limiting people by race and class and narrowing their life outcome choices."
Gallagher-Geurtsen has been working at this effort for a while. Although the process is a lot slower than she would like and the results are barely showing through, she believes it is a step in the right direction. She mentions that there is now greater transparency for parents whose kids are being tracked, that parents are being made more aware of the appeal process, and that district administrators are becoming more aware of how limiting current practices are. All of these are small steps towards a better educational future.
Perhaps it is this mindset that gives Gallagher-Geurtsen the ambition to keep moving forward. Although results may be slow and long-enduring, she wakes each morning devoted and driven to continue to work in making change.
"I'm dedicated to teaching future educators," Gallagher-Geurtsen said., "And I don't care where it is. I want future educators to be equity-minded, and if you invite me to do that, I will say yes. … If you have teachers who want to learn about equity, I'm there. Because I think it is one of the central, underaddressed issues in schools in society. … And if I can leave this earth having created more opportunities for equity for more people, I'll be satisfied."
Photo Courtesy of Professor Tricia Gallagher-Geurtsen