Our entire experience at Smokeyard BBQ and Chop Shop was critically defined by its brussel sprouts. Dressed in a blanket of reduced bourbon and maple, it was humble, full of depth, and unexpected — considering this restaurant is meant to satisfy carnivorous cravings. But the idea of this small, green package expands into the ambiance, menu, service, and vision of Smokeyard. Here, there's an understated tone of mixing the unusual together to create a space where there's something for everyone.
Located at La Jolla's Westfield UTC, this five-month-old eatery has already built up quite a reputation for its daily happy hours and impressive ability to cater to a variety of demographics — from the bar-hopping college students, to the working professional, and even the young family. Manager Andrew Platt hopes to see this Mammoth Lakes transplant become a staple in the San Diegan UTC area, opening up opportunities at the bar, tables, and outdoor patio for all to come and enjoy together.
Back to the brussel sprouts. Chef Matt Sramek — a classically trained chef with an esteemed background linking him to the bites of Beverly Hills — offers this as an appetizer that sets the tone for the rest of the menu. Pretty for the eyes, and sweet on the tongue, this $12 plate was enough to be a stand-alone meal. But paired with the crispy rock shrimp starter, which were mixed with a chili garlic aioli and reminded us of honey walnut prawns, the combination offers familiar foods in an unconventional setting. Though the bed of shredded cabbage and shockingly bright yellow peppers haphazardly sprinkled on top make the dish look less appetizing than it actually is, these melt-in-the-mouth crustaceans have an unanticipated lightness that pair well with the more filling brussel sprouts.
And for the 21-and-over crowd, there is an impressive array of libations to complement the meal. There are classic selections of beer and wine, mules and lemonades; but there is also a Smokeyard Elixir, a blend of kombucha, El Jimador tequila, and a pineapple citrus juice. At first sip, the sugar rim accentuates the sweetness and acidity of the juice, but the kombucha easily overrides the other flavors with the tequila leaving a strong aftertaste. An interesting mix, but a beverage selection that is consistent with the idea of the unexpected coming together.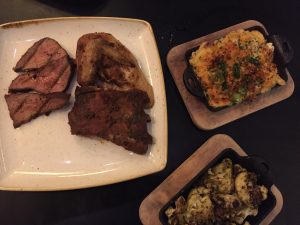 Moving right along into the mains, the food consistently attests to Sramek's talent and ability to navigate traditional ingredients with a variety of cooking styles. A barbeque sampler showcases a perfectly seasoned chicken, well-cooked tri-tip, and a set of literal fall-off-the-bone St. Louis spare ribs. Next to this marathon of meat is a platter of three accompanying sauces: sweet chili, Smokeyard BBQ, and mango habanero. Disappointingly, the Smokeyard BBQ sauce crosses the line from smoky-sweet to "Wow, this tastes like a cinnamon roll," but the sweet chili is the perfect poultry partner, and the mango habanero is a refreshing addition (that actually tastes like mango, as opposed to an artificial concentrate) to an otherwise heavy meal.
The sides speak for themselves — both the bacon and jalapeno mac and cheese and charred cauliflower are exactly what one would expect them to taste like. Definitely not bad, but after those brussel sprouts, one really can't compare.
And just when we couldn't eat anymore, an apple berry cobbler, warm from the oven and crowned with four perfectly sized scoops of vanilla ice cream, was set before us and devoured in five minutes. With a fruit compote and cinnamon biscuit topping, that tasted more like a sweet cornbread, the cobbler was the perfect bookend.
Overall, Smokeyard is a space we hope to see remain constant in the ever changing topography of UTC. A place for anyone and everyone, this minimally decorated yet incredibly well-thought-out eatery is full of honesty, intention, and transparency — both metaphorically from its menu selection and warm service, and physically, to the literal open bar, kitchen and floor to ceiling windows. A space for all community members, Smokeyard offers a "kids eat free" option for Mondays in May, free wine or dessert for all mothers on Mother's Day, and live music for all to enjoy starting this summer season.
All in all, come for the brussel sprouts, stay for the cobbler, and allow Smokeyard to remind you that it's always better together.
---
Smokeyard BBQ and Chop Shop
Location: 4313 La Jolla Village Dr #2265, San Diego, CA 92122
Hours:  Sunday-Thursday: 11:30 a.m. to 9 p.m., Friday and Saturday: 11:30 a.m. to 10 p.m.
Review by Brittney Lu and Annika Olives.