I think it is safe to say we have all had investments in certain shows, music groups, and even people themselves. There is something comforting about emotionally connecting to characters on a show, or maybe seeing qualities of yourself in a successful star. One might even label themselves as a "stan."
"Stanning" is not something incredibly new to the internet. It is the act of being a dedicated fan of something or someone — though it is more so attached to the fan bases of music stars that exist throughout Twitter. If one frequents Twitter too much(as I do), there is a chance a "stan account," a sub-account that many users have to tweet about their fan base, has appeared on their timeline. They exist in hiding yet somehow manage to exert influential power on charts, award shows, and even to the stars themselves. While this influence has been in decline in the recent years, the impact stan Twitter had in the past is nothing short of interesting.
For simplicity's sake, I'll focus most of my examples on the "stan culture" of a specific music group — Fifth Harmony.
Fifth Harmony is a multi-platinum girl group that was formed in 2012 on the X Factor, placing in third overall and securing a recording deal with Epic Records shortly after. The group's popularity slowly rose over the years, breaking barriers in 2015 with hits like "Sledgehammer" and "Worth It." The biggest hit came in 2016 with the release of "Work from Home," which reached fourth on the Billboard Hot 100, with the music video amassing over 100 million views in a little over a month (one of the most watched videos of 2016).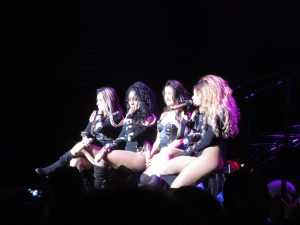 Fifth Harmony's rise to prominence serves as a testament to what American girl groups can accomplish, even though they need to work twice as hard as American boy groups. Girl groups face scrutiny on levels above that of boy groups, having to create synchronized choreography and matching wardrobes in order to be considered "decent." Not to say that artists should not focus on making their concerts entertaining, but I notice that this same standard of constant excellence is not applied to boy groups.
Nonetheless, some of Fifth Harmony's early success would have not been as significant without its fan base's dedication.
The Fifth Harmony stan account is slightly more complex than your average one-star stan account. Most of the accounts have emphasis on all of the members, but some have a direct focus. For example, some accounts will be a "Lauren stan" account, putting focus on member Lauren Jauregui, and will make her the profile picture and have a username related to her. This is known as having a "fave," a term used to distinguish who a user's favorite of the group is.
Fifth Harmony stan Twitter used to not all be about deciding which fave outranks another. For some, stan Twitter was an organized place to assemble and utilize mass fan participation to bolster chart positions, album sales, or even music video views. Fifth Harmony stans were infamous in their dedication to voting, streaming songs and videos, or buying albums. Update accounts, accounts designed for keeping up with the band or individual members, launched structured times to stream a Fifth Harmony single that would last hours. Each dedicated stan would post screenshots of themselves streaming songs like "Work from Home" on multiple devices in order to bolster the stream count. When the group was nominated for awards, this same kind of teamwork would arise in the form of mass voting — where each update account would "face" against each other in order to see who could gather the most people to vote for the group.
These were planned, structured, and so professionally orchestrated that it demonstrated a considerable level of influence that stan accounts had on rising artists. However, stan Twitter is not without its failures and problems.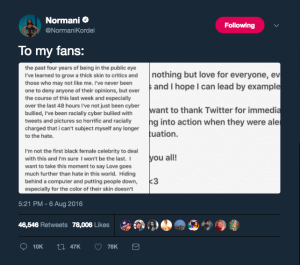 Following the departure of original member Camila Cabello in late 2016 (and arguably her disinterest in the group since earlier in the year), the group's stans were nearly halved — many following in Cabello's steps and ceasing to support the group. Others chose to support both Cabello and the group despite them being competitors on the same label. This internal split between the stans was already evident by the racial harassment of member Normani Hamilton, in which stans who followed Cabello sent Hamilton explicit and violent photos of her getting harmed; labeled as "C stans," some of these people launched this to "defend" Cabello against the group. While this was not the first time racism was seen in the fan base, it was one of the first notable attacks that was organized.
Harassing stars and even other stans in order to defend their specific faves is another facet of stan culture that has ruined the once supportive and constructive space. Chart positions are now used to demean other artists, invalidate others' opinions, or justify their own star's importance. Their influence has been reduced to something to be mocked, but it really was a spectacle to be seen when their main purpose was supporting the artist they loved.
Stan Twitter is not just a place for the music scene; it can be extended to outside this scope as well. Having a place to talk about your favorite band, television show, or star is always refreshing. While sometimes it may seem toxic, there are still aspects of stan life that cannot be undermined. Stan Twitter is broad enough to encompass all those sub-divisions, and with it comes places of discussion, friendships, and new ideas.