The Hult Prize brings to UCSD, for the first time, an entrepreneurship competition entirely for students. But what makes it even more unique? According to the CEO, "solving the world's most pressing challenges is not just the right thing to do, it is also good business." And this is exactly what the competitors try to do as they get one step closer to being the world's future leaders through innovation and creativity.
UC San Diego's main resource for business-oriented students, The Basement, is hidden away in the depths of Mandeville Hall, almost representing a secret underground room you only get to know about if you're lucky. "Everyone gets lost here," Samarth Aggarwal, Sixth College sophomore and campus director of the "Hult Prize@UCSD," told the UCSD Guardian. Once you find it though, it's worth it. The design of The Basement itself — a big sprawling room with its high ceilings and blue walls covered with motivational stories and quotes from UCSD's business alumni — inspires creativity; it's by no means a boring workspace. On the day of the event, set up with whiteboards and presentation screens and filled with students dressed in formal wear, it resembled an adequate environment for the future of innovation and brewing of ideas that aim to change the world.
The Hult Prize, hosted by UCSD for the very first time, is a partnership between Hult International Business School and the Clinton Global Initiative and is the world's biggest collegiate entrepreneurial challenge for social good. Students from over 120 counties come together to solve a social challenge (released by the Bill Clinton Foundation every September). The challenge is different every year; last year it dealt with the refugee crisis, while 2018's theme is "harnessing the power of energy to transform the lives of 10 million people." It's a year-long process; the winner of the local finals proceeds to regionals in San Francisco, and those winners then go to an eight to 12-week incubation program in London where they actually get to go to the country they are targeting and try out their idea. The winning team comes back to the United Nations headquarters, with an astounding $1 million prize to put toward their innovation, and pitches their idea to Bill Clinton himself.
"It's seed funding, so it's really cool, [because] college students don't get that high of a funding opportunity!" Aggarwal said.  Aggarwal is majoring in cognitive science with a specialization in machine learning with minors in math and entrepreneurship and innovation. His academic pursuits sound as impressive as his accomplishments so far. Aggarwal is passionate about the importance of the Hult Prize; after only his freshman year, he single-handedly applied and made a chapter at UCSD. "[We've] never competed as an official chapter in the Hult Prize foundation. We used to send teams from Rady [School of Management] and grad students for the general round, but it was hard and not a lot of teams made it to regionals," Aggarwal explained. "But now because we are a chapter, there's one team from UCSD bound to be [in regionals]."
The 10 teams that presented explained the problems they had identified and proposed solutions to the judges, after which there was a Q&A round with hard-hitting questions about the feasibility of their plans.
"Have you ever watched 'Shark Tank'? It's basically a collegiate form of that, [but] it's not going to be that much roasting," Aggarwal joked.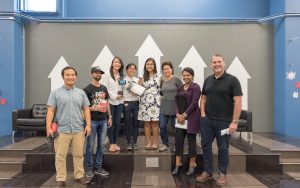 From solar-powered tiki torches to improving kindergarten education in Fiji, the competition was a fascinating watch. The Guardian spoke with Raul Correa, Muir College junior and leader of the team SEND (Sustainable Economic Network Delivery). "So right now, Amazon is trying to do drone deliveries but the problem with that is they can't do it in cities because the [Food and Drug Administration] restricts that," Correa explained. "So what we're proposing to do is implement it in rural areas — villages where they can't get medical supplies."
The winning team, Baja Solar Water Heater Project, will go on to participate against other major universities such as UC Berkeley, UCLA, Columbia University, Harvard University, and Drexel University. Their objective focuses on designing and installing solar thermal water heaters in children's homes in Tijuana, in partnership with La Mision Children's Fund.
This social innovation aspect of the competition is what sets the Hult Prize apart and makes it an important event at UCSD. "Initially I wanted to create a business. I learned more about what a social enterprise is, and that's more of what I'm starting to look into right now and what I want to do," Correa said. "It's a business with a cause to it."
This is a sentiment expressed by the founders themselves — "leading a generation to change the world" is the main message on their website.
The arts versus sciences debate is ongoing at UCSD, but business always seems to lie somewhere in the middle of the spectrum, seemingly without much help from the university.
"Basically, we are a research institute; we are a STEM-based school, where the students who are in business or entrepreneurship don't find a niche for them," Aggarwal said. Not many business-oriented competitions happen at UCSD, and the impressive resources available, such as The Basement, the StartR accelerator at Rady, and the other incubation programs, are largely unheard of by students.
"So people don't know about that and that we can actually compete, or they're really scared of where to start," he said. "They don't even know that San Diego has some of the biggest venture capitalists and angel investors in California … we actually have an angel investor on campus associated with The Basement that works at UCSD." Angel investors are affluent individuals who supply funding for startups in exchange for ownership equity or convertible debt. This gap in the university's academics and resources exemplifies the necessity of the Hult Prize.
"It can be like a starting point for students, undergrads especially, to get into the entrepreneur world and to see how they can actually monetize their idea and not go toward research altogether," Aggarwal said. "We want to change the culture at UCSD."
So what exactly is The Basement?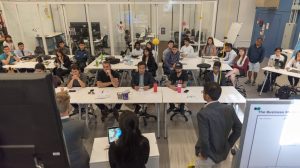 "It's basically an on-campus incubator, where you have an idea but don't know what to do with it, so they help you make it into an actual business model, and then you go to an accelerator where you ask for funding, etc." Aggarwal said. This pattern of ideation, incubation, acceleration is an excellent way to encourage innovation and ideas, the only thing we know for sure will allow us to move forward in the future efficiently.
The Hult Prize helps participants even if they don't proceed to win the prize money.
"If they win this round, they can make one of the best networks in the world, [because] there's a huge platform, and you get to network with everyone and get introduced to venture capitalists," Aggarwal said. "And [for] people who don't win right now, we'll take their pitches and send them for incubation," not to mention the huge boost to resumes that this experience would bring.
"They don't have to look for jobs after that; they can make their job," Aggarwal declared.
Correa is also excited about the experience in itself, win or lose. "Now that I've seen the possibilities of The Basement, it motivates me to think about my idea for next year," he said.
Other universities seem to be much further in this field. "A lot of them do the same thing [hosting], but what you see is a lot of them have a better structure and an entire department for this stuff," Correa said. "It's a need, and right now social enterprise is what everyone wants to go into, with sustainability and clean energy."
Being UCSD's first time hosting, the competition wasn't without challenges: a late start and therefore rushed beginnings among them. "I missed all the deadlines!" Aggarwal said, laughing sheepishly. "We are just sophomores on the board so we didn't know, but The Basement, especially Silvia and Briana, have helped us throughout this journey— they have been our biggest support, and if they weren't on campus we wouldn't have been able to do this so quickly."
Since the "Hult Prize@UCSD" only takes up fall quarter, Aggarwal and other students have more long-term plans they want to commit to as well, to prevent the club from becoming inactive the next two quarters. This includes a completely student-run startup class offered next quarter.
"There was Triton entrepreneurs last year but that didn't go well. We are trying to build on those principles with new leadership,"Aggarwal said. " We will prepare [interested students] in Innovation Club for other entrepreneurial challenges in California, and use campus resources, train them professionally with incubators, and actually get UCSD's name out."
Like other majors that feel underrepresented at UCSD, this is an important goal for Aggarwal and his team members. "I want to actually show the world, that UCSD's not just about research or STEM subjects; it's also about entrepreneurship, and innovation," he said. "Everyone thinks this is a research institute where the majority of the students are either premed, neuroscientists, psychologists or engineers, but not many think about the aspect of entrepreneurship."
In the future, Aggarwal hopes to demonstrate that applying STEM knowledge toward social innovation is definitely important and is as equally capable of changing the world as research.
"For me, I would want to go back to India, I don't want to be part of the 'brain drain' of the country," he explained. "So many students come here to study, and then settle here. Everyone complains of the problems India has — jobs, technology, resources etc., but no one does anything about it. No one tries to go back and tackle those challenges. I want to go back and try to solve some of the problems that India has."