"It was one of the coolest moments of my life. The crowd was just going crazy at the end of it."The UC San Diego Chamber Orchestra offers students a chance to continue playing music in college, make new friends who share their interests, and play exciting repertoire.
Every Tuesday evening, in the rehearsal hall of the music building, a group of musicians is preparing to transport their audience to a galaxy far, far away.
Those musicians, along with their director Matt Kline, make up the UC San Diego Chamber Orchestra. Though the word "chamber" makes it sound like a small group, the ensemble is really just a smaller version of a full orchestra made up of strings, woodwinds, brass, and more. On the concert program this quarter is John Williams' "Star Wars." The group has been around for about 10 years and Kline enjoys the opportunity to share some of his favorite classical pieces with his students.
"Ever since I was 12 years old, I loved playing the standard classical repertoire in orchestras, which was Beethoven, Mozart, Brahms, Tchaikovsky, [and] Mahler," Kline said. "My undergrad major was in composition, and the reason I'm at UCSD is primarily to do experimental classical repertoire, but getting to work with this orchestra on composers like Mozart and Schubert is so necessary for me."
Kline's favorite part about leading this group of musicians is seeing their enthusiasm and love for music. The class doesn't fulfill any general education or music minor requirements. As a result, every student who is part of the orchestra has a love for music, a desire to play in an orchestra, and the motivation to practice diligently to perfect their repertoire.
"I just love working with people who are choosing to be there. Every single student is there because this is something they want to do," Kline said. "I can't think of a more exciting place to be, to work with people who want to be there. I get to impart something that is very exciting to me."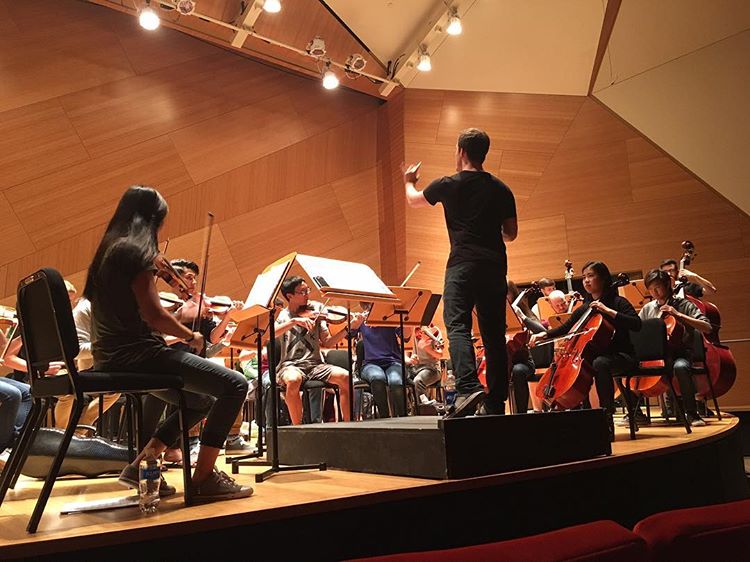 Eleanor Roosevelt College sophomore economics major Sydney Chalpin started playing the flute in fourth grade and loved being part of marching band in high school. She was glad to find an opportunity to continue her music in college.
"The people are amazing, the director is amazing, and the pieces we play are fantastic," Chalpin said. "Matt puts a lot of faith in us. He trusts us. He picks very involved pieces that are very challenging, but I have a lot of fun playing them."
Giuliana Sidhu, a sophomore biology major from Revelle College, agrees that the orchestra, though it requires time and effort, offers a nice break from the stress of other classes. She decided to minor in music and find a way to continue playing in an ensemble after being introduced to the cello at a young age.
"My elementary orchestra teacher played the Harry Potter theme on the cello for me, and I fell in love with it. I was like, 'I want to play that,'" remembered Sidhu. "So I learned the cello. I had invested so much time in it, and I enjoy it. I didn't want to stop playing music in college; I wanted to continue it along with my other studies."
---
Read more:
Theatrical Hackathons and Sleepless Comedy
UCSD Presents First "MENding Monologues" Production
Life of a Bollywood Dance Team: The Race to Win
---
In addition, playing challenging classical repertoire with other musicians has proven to be a bonding experience. The camaraderie between students in the group is evident even after observing one rehearsal. During the break, two violinists pulled out a piece they had been working on together and started practicing. Stand partners compared notes on their music, and friends chatted with each other before rehearsal and walked home together after it finished.
"There's a group of us who used to live in Revelle, and we would walk to and from rehearsal every week," Chalpin said. "We went out to dinner a few times, and we still talk; I liked that a lot."
The chamber orchestra has a particularly fun assignment this quarter — to learn John Williams' "Star Wars" score. Fans and non-fans alike can instantly recognize the sound of "The Imperial March," "Yoda's Theme," and the famous main title. The musicians all know how the music should sound when performed in tune and in time, so they have extra motivation to perfect every note.
"It was one of the coolest moments of my life. The crowd was just going crazy at the end of it."
"Who doesn't love 'Star Wars'?" Kline said, a big fan of the films. "There are a lot of film scores that are great in their own right, but I never feel they work as well in a concert setting. 'Star Wars' is not that way; it's a very well-crafted piece. It's hard, but the students have it in their psyche. I don't really have to say how certain things go, because they know the piece."
Also on the program for the chamber orchestra's concert is Sergei Prokofiev's "Peter and the Wolf," a symphonic storytelling session originally written for children. Likely Prokofiev's most well-known work, "Peter and the Wolf" is a story is narrated by a speaker and illustrated by the musicians. Kline's goal was to create a concert of pieces that told a story. "Star Wars" and "Peter and the Wolf" do just that.
The chamber orchestra will perform their end-of-the-quarter concert on Dec. 5 at 7 p.m. in the concert hall of the Conrad Prebys Music Center. Kline and his musicians think everyone should come see it, "Star Wars" fan or not.
"This group sounds amazing," Kline said proudly. "The group always sounds good, but there's something about the concert that is different. Even when I step up to the podium, there's this new energy and excitement."
Chalpin's favorite memory from her time in the chamber orchestra last year is one of the concerts. Her face lights up as she describes a successful performance and the crowd on their feet.
"We played 'The Marriage of Figaro,' and Matt had fifteen opera singers come sing," Chalpin recalled. "It was one of the coolest moments of my life. The crowd was just going crazy at the end of it."
It's fun to play famous pieces like "The Marriage of Figaro" and "Star Wars," Kline agrees, but one of the best parts of leading the chamber orchestra is learning from the musicians and seeing them do the same. His enthusiasm is clear when he conducts rehearsal. His voice is exuberant, his hand motions so energetic that he even lets go of his conductor's baton multiple times throughout the rehearsal.
"Seeing how the students react to things … There's something about having to explain something to students who have never thought about music in a certain way," Kline described. "There's a lot of stuff in this repertoire that I have years of experience with, but when you have to say things in a particular way to get someone to understand it, you suddenly learn more about why it's important. You don't take it for granted. It's exciting."