34 percent of UC San Diego's undergraduates are transfer students hailing from colleges and universities throughout California, the nation, and the world. They bring to UCSD the unique perspectives fostered by the schools they've transferred from, but how much of a difference does previous college experience actually make when it comes to being a student here?
Ethan Yoon, 3rd Year, Thurgood Marshall College, Communication
For Ethan, transferring to UCSD this year was more than just the next step in his college career — it was a fresh start.
Reflecting on his time at Santa Monica College, he said, "I spent four years there and a lot of it was just messing around and having fun … Honestly, I really didn't enjoy my time at community college. I think this is a big step up for me."
One reason why Ethan was happy to transfer out of SMC was the lack of motivated students there. He felt that students were either trying to transfer out as fast as they could without developing connections with others or neglecting their schoolwork.
"At SMC, it was really easy for me to lose track of where I was going and lose my motivation," he continued. "Here, people are taking the time to build relationships and connections, and actually streamline towards a goal, so I think it's a lot better here."
Now that he's at UCSD, Ethan appreciates not only the more-driven academic environment, but also the accommodations the university has made specifically for transfer students. All incoming transfers are guaranteed two years of on-campus housing, something that Ethan, who lives in The Village, felt was beneficial to making a smooth transition here.
"On-campus housing lets you get introduced to other transfers who are in the same age group, so you feel like you have connections with other people already and don't feel like you're hanging out with people a lot younger than you," he observed.
Despite feeling grateful to be at UCSD, Ethan admits that, as a transfer student, he feels he's missing out on the typical college experience.
"I think it would've been easier to get involved on campus as a freshman because when you first start school you have big dreams and are surrounded by other freshmen who do too," he explained, "Once you get a little older, you see the reality. Not to sound depressing, but it's scarier the closer you get to the real world. You see that once college is over, you have a whole future to worry about."
Ethan may have ditched his rose-colored glasses since transferring, but it's for a good cause. He's more focused on getting his Bachelor's degree now than ever.
"Now that I'm actually at a university I want to focus on getting out finally," he reflected. "I don't want to waste anymore time. Of course, I still want to have fun, but there are times to have fun and times when you should be studying. It's important to find the distinction between the two."
---
Rebecca Chhay, 4th Year, Muir College, Literatures in English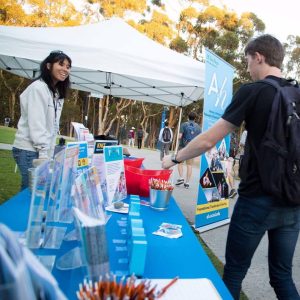 Rebecca transferred from the San Diego Community College District knowing two things: she wanted to complete her Bachelor's degree and she wanted to stay close to home and to her puppy Daisy. UCSD has proven to be the right choice — she's studying what she loves and finding work as well as volunteer opportunities that she's passionate about, all while coming home to Daisy after each day.
Rebecca has volunteered at the Women's Center and the English-in-Action program, been a Muir College Transfer Orientation Leader, and worked as a mentor for the PATH Summer Academy, which "Prepares Accomplished Transfers to the Humanities" from SDCCD. She currently volunteers as a Muir Peer Mentor, works at UCSD's English Language Institute as a conversation leader, and interns at the Division of Arts and Humanities. "I'm happy with the number of volunteer commitments and jobs I have at UCSD," she remarked.
While Rebecca is certainly thriving since coming to UCSD, she did encounter some problems upon first arriving here.
"The number of acronyms thrown around here were a bit more difficult to adjust to as a transfer because students taking upper-division courses are expected to know them already. For example, in my first quarter I got an email 20 minutes before one of my classes informing me that the location had been changed from the Literature building to 'WLH.' Even though WLH is one building over from LIT, I panicked at first because I had no idea where it was."
Besides being perplexed over UCSD's plethora of acronyms, Rebecca also struggled with feeling isolated from UCSD during her first quarter.
"Between being a commuter, working evening hours, and majoring in the humanities at a STEM-dominated school I felt disconnected from the campus community," she explained. "However, during Winter Quarter I was on campus Monday through Friday and I felt like I got a lot more out of that quarter."
As for now, Rebecca is very content at UCSD, yet she wishes that the university would provide more areas for students to study on campus.
She recounted, "Before SDCCD, I briefly attended Columbia University until deciding it wasn't right for me. One thing I enjoyed there is the number of libraries it had. UCSD had multiple libraries before budget cuts, and I would love to see them try to bring them back now for increased study spaces."
Over time Rebecca became increasingly connected to the UCSD community, but for transfer students who may be struggling to get involved, her advice is to spend more time on campus.
"I think most transfer students are used to spending the least amount of time on campus, but UCSD is absurdly large and there's always something to do."
Rebecca also believes that, while transfer students are often older than other college students, there's no reason for them to be excluded from the campus community.
"A lot of transfer students come in older than traditional students — for example, I just turned 23 today — and think that there aren't ways for them to get involved," she noted. "However, UCSD has just about everything you can think of, from a fathers' support group to a board game club that meets at the student-run science fiction library. Just spend more time on campus!"
---
Wen Zhao Yang, 3rd Year, Sixth College, International Studies – Economics
Before Wen transferred to UCSD this year, he spent a week on campus during the summer as part of the OASIS TRIO Student Support Services Program (SSSP). Designed to provide incoming students with community, academic support, and opportunities for campus involvement, the program was crucial in helping him make a smooth transition from Pasadena City College.
Now that the academic year has started, Wen doesn't have much to complain about. He's at a university that is "kind of far from home but not too far," studying a subject he's so interested in that he's considering completing his Master's in International Studies here, and trying out organizations like the Korean American Student Association and the Multi-Asian Student Association.
Yet Wen has had some unpleasant experiences at UCSD due to his status as a transfer student.
"Teachers expect you to know material and information from earlier parts of a class series if you're a transfer student," he explained. "It makes it harder to adjust into the later part of the series."
Wen has also noticed some contrasts in the academic environments of UCSD and Pasadena City College.
"CC was much more laid back. Here, I have the same size workload that I had before, but I have to put in double the effort. It's because the professors at community college are there to teach you, but the professors here don't really focus on individuals. When the class sizes are so big here, you lose that personal touch that you have at CC."
In addition to large class sizes, another issue that Wen has with UCSD's multitude of students is the lack of adequate parking spaces.
"Basically, if you move your car on a weekday, you won't be able to find another spot after you leave the parking lot," he remarked.
Despite feeling that UCSD is overcrowded, Wen is very happy with his decision to transfer here. He noted how easy it is to get involved on campus.
"Clubs on library walk will literally just hand you information during the first few weeks of school. Whether or not you're able to get involved is really based on your personality — you can't blame UCSD if you're not willing to go out of your comfort zone."
While Wen is still acclimating to the ups and downs of UCSD, there is one thing he knows for certain: "They should really build another parking structure."
---
Jorge Arana, 4th Year, Warren College, Literatures in English
As a commuter living in Tijuana, Jorge limited his college and university options to the city of San Diego. After attending San Diego Mesa Community College, Jorge applied to transfer to University of San Diego, SDSU, and UCSD.
"There is no reason why I only applied to colleges in San Diego other than not wanting to pay for housing or rent," he explained. "Commuting across the border for the last twenty years has become routine and quotidian."
In keeping with his goal to save money, Jorge chose UCSD because the school offered him the most financial aid. Upon arriving here, Jorge wanted to study the classics and specialize in European Medieval and Renaissance Literature, yet over time he decided to change his career path.
"After a quarter at UCSD and working as a tutor for three years at a private high school, I reconsidered what I wanted to pursue," he recounted. "The education studies department at UCSD is a state of the art program. UCSD made it very easy to make this transition in career paths."
Since transferring, Jorge doesn't believe his approach to academics has changed, despite UCSD having a more rigorous academic environment.
"You know, I was paying for my community college courses, and I am also having to work and pay for my coursework now as I was before transferring, so one might say I am just as committed to my coursework now as I was before transferring. Your wallet can be a significant incentive."
While his commitment to his studies hasn't changed, Jorge feels that UCSD's commitment to the liberal arts is lacking, and that the university needs to resolve certain issues that are specific to Arts and Humanities transfers.
"I think UCSD needs to push certain programs a lot more, and market itself as a holistic college, and not purely a STEM oriented campus," Jorge observed. "I think there are very little liberal arts classes and professors, and much expansion to be done in this area."
As for involvement on campus, Jorge remarked, "I was fortunate enough to work very closely in the education sector before transferring, and I think it earned me the experience to become a tutor here. But for those who are having difficulty getting involved, the best way to do so is through your coursework. Talk to your professors and ask for any research opportunities. That is the greatest form of involvement you can experience."