Charge with Solar Chill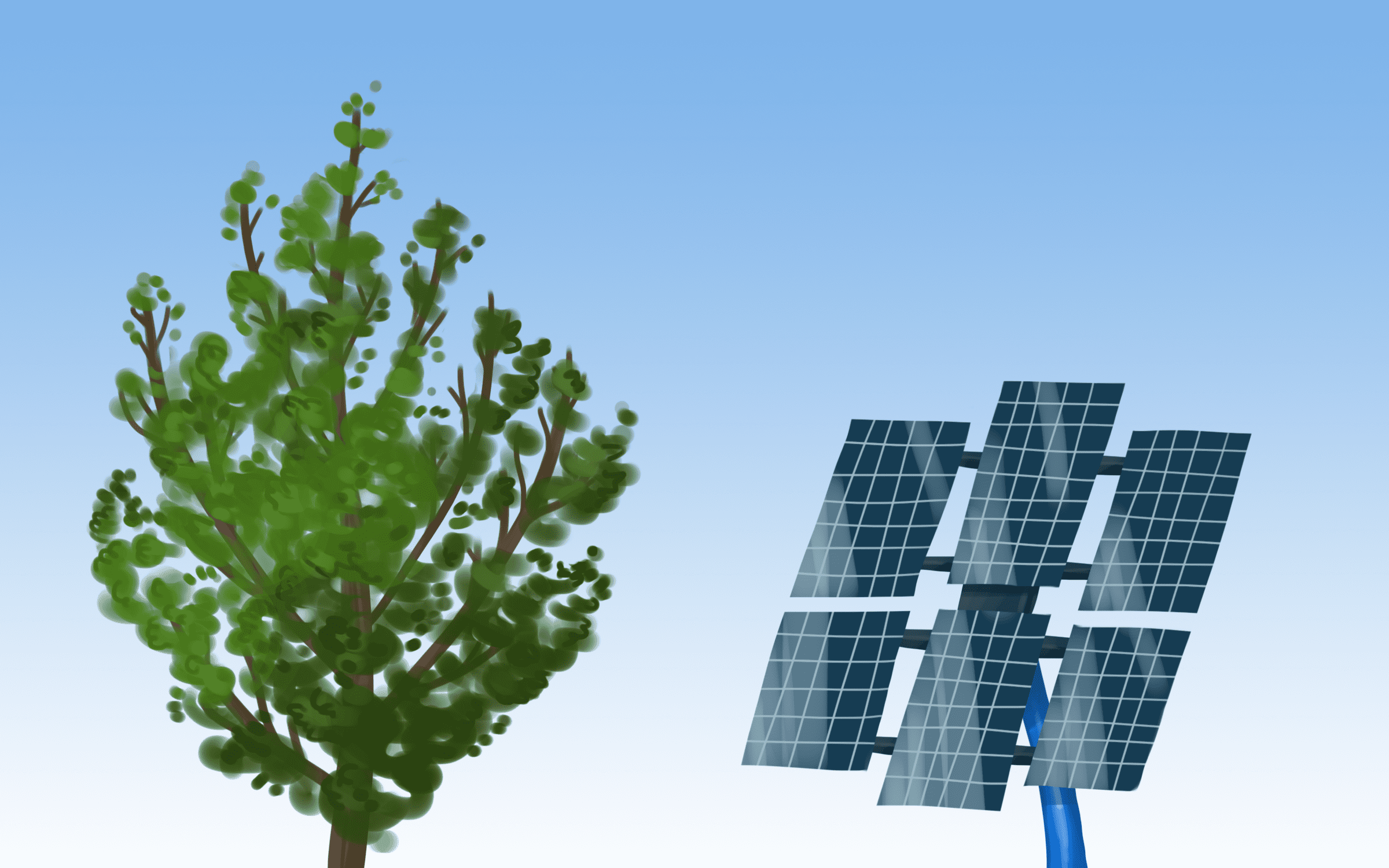 Engineers for a Sustainable World  aims to install the first student developed structure on campus, a rest area to charge phones. The UCSD Guardian sat down with ESW to understand the environmental impetus behind the solar cells.
Students often have little other choice than to sit in a dimly lit room with a single window that doesn't open, doing homework or writing essays, hardly ever seeing the light of day. Slowly, they begin to lose the hard-earned tan they acquired over the summer. Occasionally, they might step outside and just stand in the doorway for a minute or two, taking in as much fresh air as they have time for before having to go back inside. It's a grim routine, especially irritating due to the fact that many students are missing out on all the sunshine San Diego has to offer. Thankfully, there's soon to be a solution, and it's called Solar Chill.
Solar Chill is a student lead project that began in 2013 as the brainchild of Engineers for a Sustainable World, a UCSD organizations that focuses on sustainability through technology. The project's goal is to create spaces around the UCSD campus where students can relax or do homework, while also being able to recharge their electronics using a 1.5 kilowatt off-grid solar panel. Solar Chill sites will also provide two benches comprised of local rocks enclosed in wire mesh, topped with reclaimed Torrey Pinewood. Finally, we can sit and browse Facebook while getting some Vitamin D.
Eleanor Rosevelt College junior Alexander Han, the electrical lead for the project, explained why UCSD is the perfect place to implement solar panels.
"One goal is to be able to utilize the power of the sun, because here in San Diego we get so much sunlight compared to the rest of the country," Han said. The first Solar Chill site will be located between ERC and the Village, right next to the bus stop.
"We're getting very close to implementing it," Han said. "As of now, we expect the construction to start in early March."  
There is certainly something special about Solar Chill, in both the dedication and drive behind the project as well as the fact that the entire team is comprised of students.
In fact, Solar Chill is the first student-designed project ever to be approved to be built on campus. The site located in ERC will act as a beta test that the team will present to the Vice Chancellor for Resource Management and Planning, Gary Matthews. Warren College Junior Josh Hill,  the project lead aims receive Matthew's "OK" to carry out the next version of the photovoltaic cells.
Hill hopes that Solar Chill sites will eventually become a regular campus feature.
"My ultimate fantasy would be for anywhere you see a bench on campus you could instead put a Solar Chill Site," Hill said.  
Sixth College senior Victoria Santos is the Outreach and Finance lead for Solar Chill, and makes sure that companies, engineers, other universities and media outlets are aware of what Solar Chill is doing for UCSD. Like the other members of the team, her work is also born out of a deep interest in sustainability and a desire to create change.
"My job is more than just broadcasting what Solar Chill is about, but making sure our team is staying passionate about what we are aiming for and how we can express that passion," Santos said. "Our main idea is that it's designed by the students rather than just purchased … students are capable of anything that they put their minds to. It's about making more of a lasting impact rather than just temporary."
Santos also stresses the harsh reality that our generation faces as our current resources are depleting.
"We need to become sustainable with what we have," Santos said.
This message becomes increasingly poignant as college students like the ones on the Solar Chill team grow older and inherit the responsibility to take care of the environment.  Nowadays, every effort to increase efficiency is a vital contribution. This is why, on a larger scale, projects like Solar Chill are becoming increasingly important in today's world.
The passion and innovative drive is palpable in the members of the Solar Chill team. Many working on the project, such as Hill, developed an interest in environmental science at an early age.
"I was always that kid who would run back in and turn the lights off," Hill said.
As long as the passion for innovation remains an inherent element in the Solar Chill project, it seems clear that it will be a success. UCSD students should be on the lookout in the coming months for Solar Chill's photovoltaic structures around campus, and should take something from the larger implications of what the Solar Chill team has achieved, in that its members are demonstrating the impact that a group of college students can make almost entirely on their own. Thanks to student innovation and photovoltaic cells, the sun that San Diego is famous for will soon be powering your iPhone.