Sunday, Jan. 31st was a rather blustery day — the kind of day that makes one want to crawl under the covers with a cup of tea, and pray that nothing will tear away from the cozy cocoon. If it weren't for the intrigue of luxurious dishes such as: lobster in butter sauce, risotto and souffle #foodporn on Facebook, no foodie would have made it out of bed, but the food gods — quite the modern deities — reigned down and granted a sign. It came in the form of a featured ad on the UCSD Free and For Sale page, inviting select, blessed students to join the Plates with Friends duo who were finally hosting yet another culinary masterpiece. Luckily, the Guardian had the pleasure of sitting down for a chat with Joy Inton and Johnson Jou, UCSD alumni, current Torrey Pines Park Rangers and couple behind Plates with Friends.
SN: Why did you start Plates with Friends?
PWF: Starting this was kind of a way to get UCSD affordable food that's also really good. When people feel good after a meal, they'll share good stories and that's kind of what interests us. We like to see how the interactions go between students. Sometimes people knew each other from before, like at our first dinner — we all walked in the room not knowing one another, but then realized by the end of the night, that we all had mutual friends. I have to say we've seen quite a few friendships made at these dinners, which is one of the reasons we like having them.
SN: So, you both are self-taught chefs, right? How do you learn how to prepare the meals you make?
PWF: Yes, we're both UCSD grads in biology, so we never really did any cooking for any other reason than we both like to eat, but also don't want to pay high prices for food we can make for less. We both read a lot of cookbooks that we find at the San Diego Public Library and also recipes we find online. We also love to learn about new cuisines when we travel and try to bring back a little bit of what we learn from traveling, back here and then eventually share it all with you guys.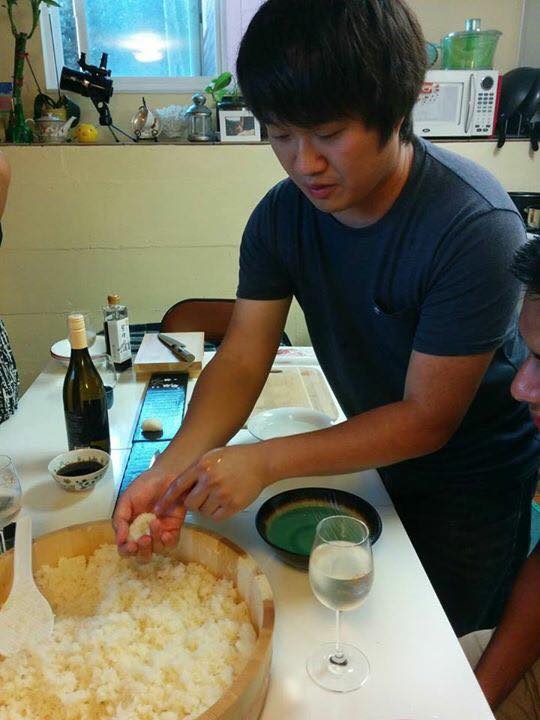 SN: Let's talk about having strangers in your home… are you ever worried?
PWF: Think about it like this, the people that come here are UCSD students, so they have a lot to lose if they act poorly. Plus, the nice thing about the Free & For Sale page on Facebook is that we can use filters, so if someone maybe has a profile picture where they're holding two guns and seem dangerous, I probably wouldn't invite them into our home. We usually get people who want to try new things and are open-minded. Sure, there are times we get worried before a dinner, but part of our job as rangers is working with the public and we've learned the best way to cope with the unknown is to be at your best and see where it all falls.
SN: You both travel quite a bit, how do your travels inspire your culinary passions?
PWF(Johnson): One of the things I fell in love with Joy for is her open-mindedness to try new things. As a couple, we love to travel around the world and from what we've experienced, traveling is all about sharing stories with people and it seems like one of the best ways to get a glimpse of the way other people live is by sharing a meal. It's really that, that we live for, that new experience and sharing happiness with people.
SN: Wow, that's really beautiful. So, is Plates with Friends something you see turning into something more? Like a restaurant or a future business?
PWF: Thank you. I mean, we've got a pretty good gig right now. We love working at Torrey Pines and at this point we make enough to travel and afford to have these dinners, so we feel pretty fortunate. I don't think we really ever want to run a restaurant, but we do have a dream of owning a Bed and Breakfast one day on a farm. We love farms! We want to have chickens and fresh vegetables that we can hopefully serve to our guests and continue to share stories over a good meal.
SN: Ok, last question, I promise! I know it's hard, but can you both think of a cuisine or type of food you couldn't live without?
Joy: I'd have to say Japanese. I could eat this (our sushi dinner) everyday.
Johnson: Wow… I can't answer that. There isn't just one thing I could have over and over again, I guess it just depends on what I'm hungry for that day.