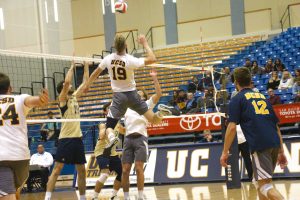 The UCSD men's volleyball team finished a three-game road trip, 1–2,  in which they faced 11th-nationally ranked Pepperdine on Wednesday, eighth-ranked Stanford on Friday, and Holy Names on Saturday. The loss to both ranked opponents in straight sets began our stint of road games but defeating Holy Names in straight sets renewed some confidence to finish the trip on a strong note. The Tritons now stand with an overall 2–5 record and will look to duplicate Saturday's performance in their next match.
UCSD vs Stanford
On Friday night, UCSD was up against another ranked opponent after the match against Pepperdine: this time, eighth-ranked Stanford, who would go on to win the match in straight sets, 25–16, 25–20, and 25–19.
Coming off a solid match performance on Wednesday, junior middle blocker Shayne Beamer once again came out firing, totaling six kills and a team-high three blocks for the Tritons. Junior outside hitter Ian Colbert likewise performed well and filled up the stat sheet with six kills, five digs, two service aces, two assists and a block on the night.
UCSD got off to a slow start and was not able to overcome the 18–11 gap against a strong Stanford team, who finished off the set with an ace.
The Tritons came out in the second set with improved play, leading the Cardinals 8–7, and stayed competitive for the most part, tied 13–13 midway through. However, after that point Stanford dominated and again finished the set with an ace.
Similarly to the second set, the Tritons were able to gain the lead midway through set but then were not able to hold on. UCSD had a 15–13 lead after a serve from the Cardinals' senior middle blocker Conrad Kaminski; from that point, the Cardinals took firm control behind 7–0 and 4–0 runs.  A kill from fellow Cardinals middle blocker, freshman Chris Moore, ended the set.
UCSD vs. Holy Names
After a rough start to the three-game road trip, the Tritons found consistent play and defeated non-conference opponent Holy Names on Saturday in straight sets, 25–22, 25–23 and 25–21.
The victory gave the Tritons an overall 2–5 record which already equals the 2–26 record of last season.
"It was a challenging match, but I thought we played really well late in each set," Ring told the UCSD Athletics Department. "We came up with some big plays, whether it was a stuff block, a good tough serve, we dug some balls and got some good-quality transition swings."
Colbert and sophomore outside hitter Alec Flowers led the way for the Tritons, both producing double digit kills, 13 and 11 respectively.  Most impressively, neither had a single error while hitting above .500 for the match. In addition to Colbert's career-high 13 kills, he also had a career high of 10 in the digs category, producing his first collegiate double-double. Likewise, sophomore setter Milosh Stojcic had a double-double on the night.
UCSD showed resiliency in the first two sets, after being behind 15–12 on both occasions and working its way up to a level score at 15–15 and 17–17.
Prior to trailing 15–12, the Tritons had a 12–10 lead to which the Hawks responded with a 5–0 run. UCSD regained composure and tied the match at 15–15 and once again at 19-19. Sophomore opposite Tanner Syftestad had two kills in that stint to help the team win the set.
UCSD trailed 15–9 in the second set and once again came back to tie the match up, this time at 22–22, followed by a 23–23 tie.  Flowers and redshirt sophomore outside hitter Calvin Manchenko then killed off the set with the final two points.
The final set was more of the same story: UCSD would trail 16–15, but it would quickly turn it around and lead 17–16 before narrowing to a 22–21 lead.  It was a match set with kills by Colbert and redshirt freshman opposite Luke McDonald.
Beamer performed consistently throughout the road trip, and this night was no exception when he tallied five kills and five blocks to equal his career best.
UCSD returns to RIMAC Arena on Wednesday, Jan. 27 for its next match against Ivy League team Princeton.  First serve is set for 6 p.m.