Copa Coffee: Copa Vida Coffee Shop Review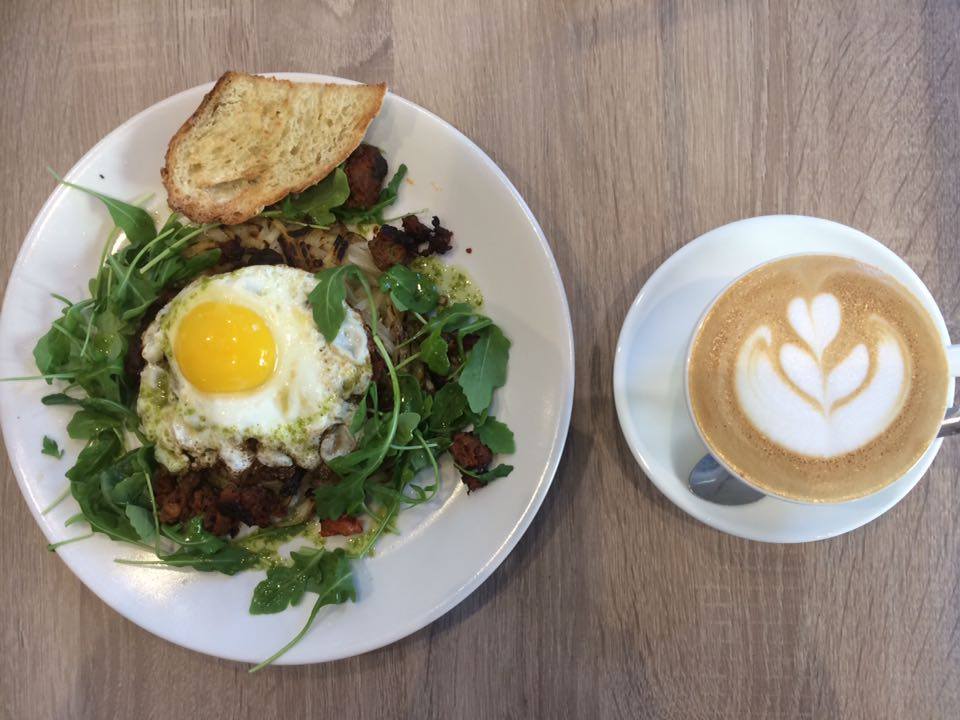 Location:
905 J St., San Diego, CA 92101

Hours:
Monday to Friday: 7:00 am to 7:00 pm
Saturday-Sunday: 8:00 am to 7:00 pm
Another routine day draining you of energy when all you can think about is gulping down some liquid zeal, commonly known as coffee? If this feeling caught you off guard at East Village, now you can get your "cup of life" at Copa Vida, a Pasadena-based coffee shop that opened last month in the Diamond View Towers.
Located down the block from Bean Bar, which just celebrated its one-year anniversary, Copa Vida shares a similar minimalistic, bright atmosphere. Both coffee places actively implement wood as a decorative material, adding coziness to balance out the exposure created by floor-to-ceiling office windows. It becomes evident that these two businesses are not just neighbors once you notice they both installed the same espresso machine, uniquely elegant Spirit machines rare for local cafes. Knowing that the espresso machine is the heart of every coffee-serving place, Copa Vida's owners deliberately chose Spirit for its small size and clear tops, in order to allow baristas to maintain a conversation with customers while preparing their drinks. The coffee shop's focus on serving the community is also clear, since Copa Vida promotes itself as a venue for business meetings and local music and art performances. Soon after the opening, it hosted one of the tours of Thursday Night Throwdown, the main latte art competition among San Diego coffee shops, proving that Copa Vida is here to become an active member of San Diego coffee scene.
In addition to the space, Copa Vida's menu is created to serve customers with all possible preferences. Today, many cafes prefer to focus on either food or coffee to guarantee high-level quality. In fact, some coffee shops choose to narrow down their drinks spectrum and serve coffee without any additional ingredients, while others specialize in more complex, mixed hot drinks. One place can offer coffee but refuse to sell tea. But making up your mind and coordinating your preferences with others is never easy, so Copa Vida does not limit its clients and provides a menu that combines popular coffee options and a truly extensive tea list with a surprisingly all-encompassing number of breakfast, lunch and "extended hour" dishes. Luckily, Copa Vida employees equally value the quality and quantity of their culinary creations. With five people at the counter and more at the kitchen and a self-order system, this cafe's professionals quickly prepare well-known classics like cappuccino, jasmine tea, traditional French toast and smoked turkey melts. It also does not take them long to make Copa Vida's very own Mediterranean couscous, breakfast burritos, Shakerato (iced latte with an extra shot shaken with agave) and, the UCSD Guardian's new favorite, Brulee Mint Latte (hot tea-based drink that combines minty, creamy and caramel flavors).
Located among many office buildings, Copa Vida is ready to speed up for those who are too busy to stand in line. Free of snobbishness and full of appreciation for customers' time, it offers an "honor bar" option with coffee on Fetco and cold brew on tap for iced coffee and iced tea. Those who prefer to work in a coffee shop environment will be pleased to know that Copa Vida can accommodate coffee- and tea-loving laptop users by providing Wi-Fi. The number of outlets, however, is rather limited and, as Copa Vida's employees believe that everything is good in moderation, Wi-Fi is turned off on Saturday and Sunday mornings from 9 a.m. to 3 p.m. to encourage people to look up from their screens.
Copa Vida's East Village location is steadily becoming a busy place, daily visited by local office workers. And while it is located rather far from campus, trust us in that paying Copa Vida a visit during brunch time from 8 a.m till 4 p.m. is a worthy weekend pursuit.