Starbucks Coffee Opens at Price Center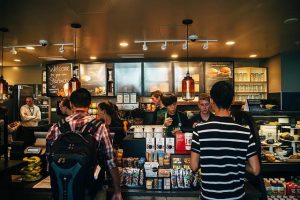 Starbucks Coffee will officially open its Price Center location to customers on Oct. 29, showcasing a design aesthetic unique to UCSD.
Director of University Centers Sharon Van Bruggen said that at this new Starbucks, which will accept TritonCash, students can expect to find a place to study, charge their technology and appreciate student art.
"UCAB prioritized ample seating, tables that can be used for studying and outlets for recharging electronics," Van Bruggen explained to the UCSD Guardian. "They also allocated the northwest walls for student exhibitions, which will be curated by our student marketing and programs team."
Starbucks comes to UCSD with the intention of increasing University Centers' revenue. It is replacing Cafe Roma, which was struggling financially at the time of its closing in March 2014.
University Centers Advisory Board Chair Claire Maniti disclosed that Starbucks worked in collaboration with University Centers to create a distinctive store location with a San Diegan ambience.
"When Starbucks came in, they brought us their average green layout. We asked them to make it feel more like UCSD. We wanted it to feel less corporate and more personalized," Maniti told the Guardian. "They worked with us for a few months to get that feeling down; to turn the average Starbucks into something more beach-themed and natural-feeling."
According to Van Bruggen, the construction process took nearly three months to meet both Starbucks and University Centers' design criteria.
"The design phase took a bit of time to get it just right," Van Bruggen said. "Starbucks has a specific design aesthetic, and University Centers has specific standards, including getting feedback from students."
Maniti added that Starbucks agreed to provide $5,000 annually in scholarships to support student learning initiatives related to sustainability, recycling, and community development. The university is currently developing the selection process with Starbucks, which will involve UCAB and student representatives.
Van Bruggen added that the new coffee shop has provided numerous student jobs and plans to increase the number of staff members are in the near future.
"University Centers hired 75 student baristas to operate the store, and we plan to hire up to 25 additional students during winter quarter," Van Bruggen said.
The store's general manager Maria Orozco has been working with the new employees for weeks to ensure that the store is successful and leaves a positive impression on the UCSD community.
"We've gone through two and a half weeks of extensive training with our 75 baristas," Orozco said. "We've been going over how we're going to make Starbucks part of the UCSD campus environment and hold true to the Starbucks experience."
The new Starbucks joins many other coffee carts and cafes on campus. Van Bruggen, however, said that it will not negatively impact the other coffee shops' markets in the long term.
"For people who don't have a coffee preference, they are likely to go to whichever coffee cart or cafe is the most convenient to them," Van Bruggen explained. "But coffee-lovers who are devoted followers of a particular brand or cafe are likely to stay with their preferred coffee provider. Starbucks may pull a crowd for the first few weeks simply because it is new and different. But, I imagine most people will go back to their convenient or favored spots on campus."
Sixth College junior Taylor Fewell said that although she plans to go to Starbucks, the new store will not serve as a replacement for Art of Espresso and other carts around campus.
"I probably will be going to Starbucks a lot because I really enjoy their drinks," Fewell told the Guardian. "But I'll still go to Mandeville because it's in the center of where all my classes are."
Normal operating hours will be Monday through Friday, 7 a.m. to 11 p.m., Saturday, 8 a.m. to 11 p.m. and Sunday, 9:30 a.m. to 11 p.m.