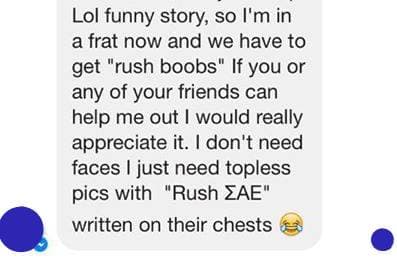 Members of Sigma Alpha Epsilon's new pledge class requested topless pictures from female students this week, according to a screenshotted conversation posted on Facebook earlier today.
Undergraduate student Rachel Friedman uploaded a picture of her conversation with an SAE pledge to her Facebook page on Oct. 15.
"I'm in a frat now and we have to get 'rush boobs,'" the pledge messaged Friedman. "If you or any of your friends can help me out, I would really appreciate it. I don't need faces, just topless [pictures] with 'Rush [SAE]' written on their chests."
Representatives from SAE responded to the allegations with a public statement on its Facebook page, saying that the majority of the organization did not know about the incident.
"Our chapter as a whole was not aware and did not have a part in this degrading action," Sigma Alpha Epsilon posted earlier today. "Our chapter and Sigma Alpha Epsilon as an organization does not condone objectifying women or the degradation of others for that matter. We believe in equality and respect for all individuals and are working with UCSD and our national organization to ensure that proper action is taken for this incident."
Eleanor Roosevelt College junior and Greeks United for Inclusion, Diversity and Equity member Lauren Roberts told the UCSD Guardian that this is not the first time fraternities have mistreated women.
"This is one of many explicitly sexist and misogynistic actions that have been performed by Greek Life as a whole this year alone," Roberts said. "While I'm not surprised that this has occurred, I wonder how many women were asked for these pictures before one spoke out."
UCSD alumna and leader of the Free the Nipple Movement Anni Ma mentioned that although the pledge may not have intended to offend women, his nonchalant tone is an example of gender-related microaggression.
"This shouldn't be shocking news — this is a common occurrence in our everyday life; we simply caught someone saying it on social media," Ma told the Guardian. "I don't think the young male knew exactly what he was saying and how he was addressing his point. But he proves that we live in a society that allows males to [sic] devalues women like this. He tried to make his request funny or somehow acceptable, when it's absolutely offensive and not okay."
Roberts further explained that this incident can be seen as a side effect of an initiation process that largely focuses on receiving attention from women.
"It's the entitlement to women at exchanges and formals, the way pledges are required to receive signatures from women, take pictures with large groups of women, which ultimately escalated into wanting photos of women's breasts," Roberts said. "This could have been prevented if the leadership of the chapter had sat down with each pledge class and explained how to respect women and how not to objectify them. … Changing the culture of an organization is tough, but to live up to their own values, it is incredibly necessary. "
The fraternity said that it is working with females who received messages similar to the pledge's to resolve the situation.
"We have individually contacted each of the women affected by our member's actions, apologizing and inviting them to approach us with any further questions or concerns," SAE wrote in a comment. "We in no way are trying to cover this incident up and instead believe that it should be brought to the spotlight to initiate a dialogue of what is or isn't acceptable on our campus."
A.S. Vice President of External Affairs and co-director of the UConsent campaign Krystl Fabella told the Guardian that the Facebook post should make people question the societal norm of treating women as inferior to men in everyday situations.
"Ironically, whenever this kind of thing happens, no one is ever responsible," Fabella said. "Not even the person who did it, because they didn't 'know any better.' … It is a pattern in our culture. … We hear it in conversations, in party titles like 'CEOs and office hoes,' the [sic] prevalance of sexual assaults in the Greek community, etc. This one incident reflects an overarching issue of the continual demeaning of women within the Greek community, and people need to internalize that."
Roberts, who is also an active member of the sorority Alpha Chi Omega, encouraged UCSD students to think of this conversation as an ongoing issue that needs to be addressed.
"The student body should question the organization, its response and the underlying cultural issues," she said. "As easy as it is to accept an apology and label the harasser a 'lone wolf,' it is important to look at the context of this issue … and recognize that the patriarchy is extremely prevalent in fraternity life, and it is time to start questioning the status quo and treating these [problematic] members and chapters accordingly."
Friedman and SAE representatives did not respond to the Guardian by press time. 
A previous version of this article included the Sigma Alpha Epsilon pledge's name. The UCSD Guardian's Editorial Board made the decision to remove his name from the article. The lack of a named individual does not change the fact that this incident occurred.