UCSD men's cross country takes first place, women third on home course to end regular season.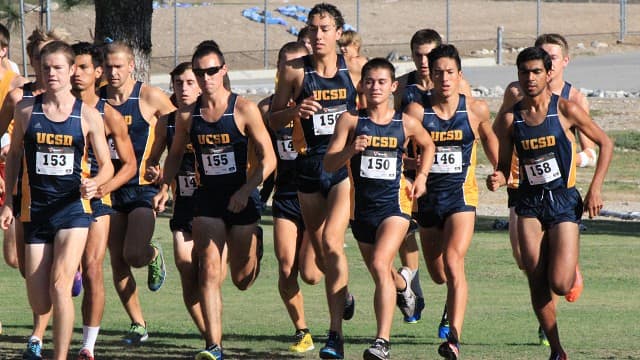 UCSD hosted the 23rd annual Triton Classic on Saturday morning at UCSD's North Campus Course. This race was the last one of the regular season for the Tritons, who will be on their way to San Francisco State for the California Collegiate Athletic Association Championships in two weeks. The Triton men came in first for the second straight year, and the women took third.
For the No. 25 Triton men, junior Brendan Gee finished first, coming in eighth and finishing the 8-kilometer course in 26:44.30. UCSD's pack running was effective again, with six runners finishing within 11 seconds of each other. Sophomore Wyler Svoboda (27:18.17) took 14th, sophomore Garrett Lepine (27:20.39) 16th, junior Terrence Luevano (27:21.50) 17th, freshman Joseph Benrubi (27:24.10) 18th, senior Daniel Franz (27:28.40) 19th and freshman Aren Johnson (27:28.91) 21st.
"He has taken a huge step forward this year," UCSD Head Coach Nate Garcia told the Athletics Department about Gee. "We are so pleased with the role he has taken not only in his running but also in his leadership in the team. He has really been showing that leadership here on the racecourse."
UCSD dominated the team race with 54 points. Azusa Pacific University finished second with 73 points as their top runner sophomore Jeremy Porter won the race in 26:06.38. Loyola Marymount University was the final team on the podium with 83 points.
"We have been running very well this year as a pack," Gee told the Athletics Department. "We're looking to get anywhere from second to fourth [at the CCAA Championships]."
The women's course was a 6-kilometer race, in which senior Paige Hughes (22:26.07) and freshman Karina Carstens (22:29.93) came in seventh and ninth, respectively. The No. 24 Tritons had their other scorers finish in 18th, 19th and 20th place. Senior Marie Diaz (23:07.84), junior Ella Verhees (23:09.76) and sophomore Kristin Semancsin (23:19.62) rounded out UCSD's top five.
"It was a really good field and really good competition, especially on the women's side today," Garcia told the UCSD Athletics Department. "It was a tight battle up front. I am pleased with the third-place finish."
As a team, UCSD took third with 73 points, narrowly missing out on second-place Biola University, who had 67 points. CCAA rival Cal State San Bernardino won the race with 64 points. Again an Azusa Pacific runner, freshman Eileen Stressling, won the race in 21:36.86.
"The conference is better than ever," Garcia said. "But we're confident that we can go in and handle our business and get a good finish."
With the regular season now behind them, the Tritons are looking forward to the CCAA Championships at San Francisco State on Sunday, Oct. 25.