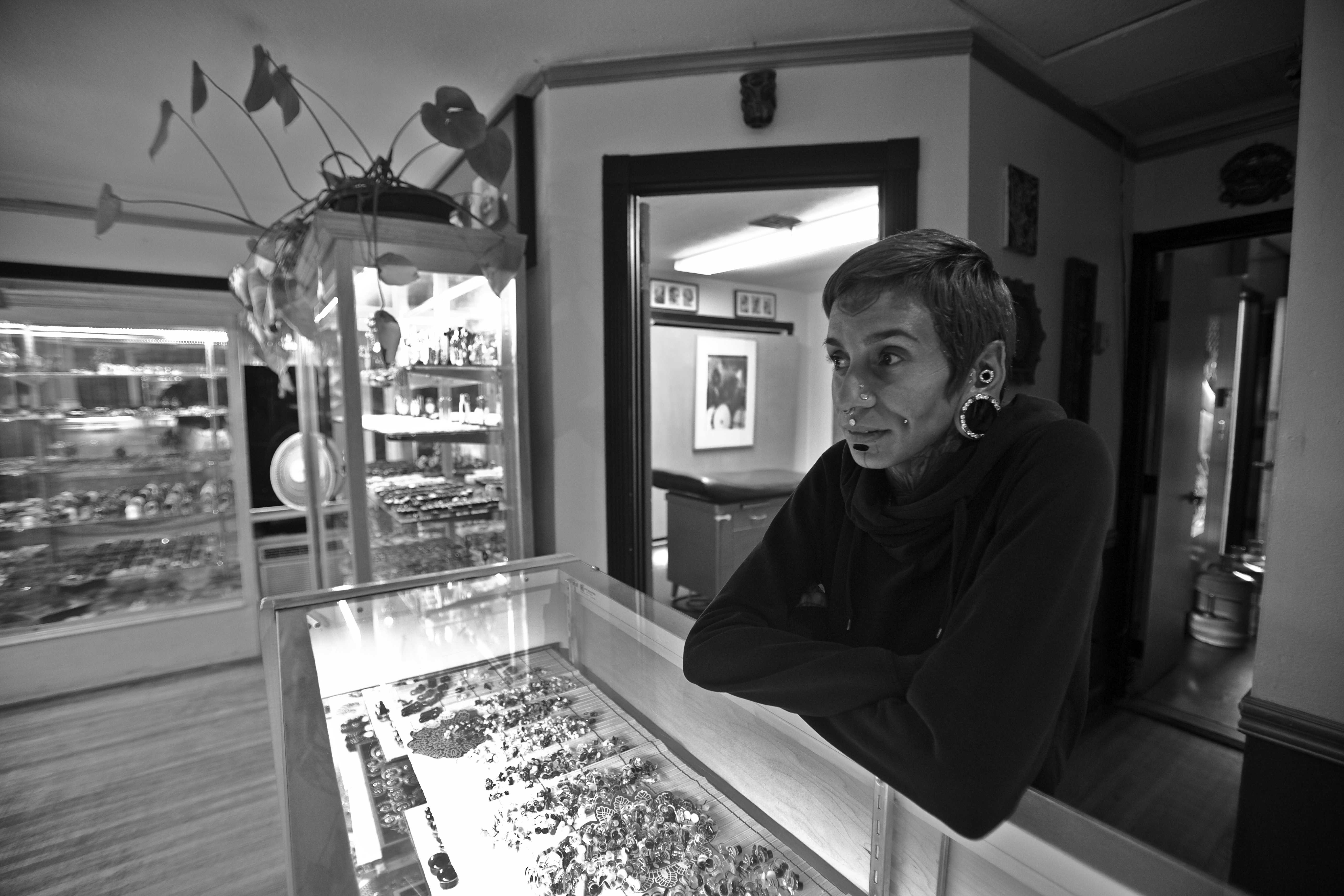 Enigma Piercing in Pacific Beach2079 Garnet Ave.San Diego, CA 92109-3525

(858) 274-9950

HOURS:

Every day, 11 a.m. to 9 p.m.

ID needed

Enigma Piercing on Adams Avenue3041 Adams Ave.San Diego, CA 92116-1502

(619) 516-4343

HOURS:

Everyday, 11 a.m. to 8 p.m.

ID needed
Initially a part of traditional cultural expressions — an essential element of various countercultures of the last two centuries and now a rather mainstream type of body modification today — getting a piercing is something you might be currently considering. While more and more people are turning to professionals, not all are able to provide quality-piercing services. That's why, before you get any holes poked, it is essential to do your research to make sure the shop you've chosen is truly top-notch. But who are we kidding? Pestering a piercing shop with questions about the whole piercing process is a quite uncomfortable procedure that the majority of us would rather avoid. But there is another way! The UCSD Guardian is here to provide you with personal experiences about arguably one of the best piercing shops in San Diego — Enigma Professional Piercing Studio.
Located on a quiet street in Pacific Beach, one of the two studios looks like a hut surrounded by banana trees somewhere in a tropical forest. The interior is not much different from the exterior. The lobby smells like wood, the walls are decorated with pictures of tribal piercings and big window cases with intricate jewelry stand around the perimeter of the room. Visitors read National Geographic magazines while waiting for their turn (lines here can actually be quite long, since Enigma works on a walk-in basis), adding to the feeling of being taken away to some exotic locale. When the wait is over, your piercer will take perfect care of you: explaining the procedure, giving directions and entertaining you with conversation in the most nervous moments.
When it comes to safety, Enigma does not hide anything from its clients. All information on sterilization methods is provided on the shop's website and, in fact, matches reality. The employees sterilize their equipment using a special autoclave machine that utilizes a combination of steam pressure and heat. This is an effective way to sterilize reusable piercing equipment, but just to make sure that every individual set of tools is exposed to the proper amount of heat, Enigma additionally uses temperature-sensitive integrating indicator stripes.    After filling out all the paperwork, clients receive a stripe that they sign with their initials. Right before the piercing procedure, clients personally make sure that their indicator demonstrates that the tools were properly sterilized and are ready to be used.
Not only are the tools sterile but they are also simple. On many YouTube videos, piercers use special equipment, like clamps, that help direct the needle. However, Enigma piercers do not use anything but a piercing needle (after all, did you know that piercing guns were initially created to tag livestock?).
Like their tools, Enigma's jewelry is also safe. They are made of surgical stainless steel, used for prostheses and implants, meaning if this metal is safe enough to wear inside of our bodies, it can surely be used as piercing jewelry material. In addition, the salon doesn't use externally threaded jewelry, since it can easily damage pierced skin and complicate the healing process. Speaking of the healing process, Enigma piercers provide aftercare instructions and a little bag of sea salt needed to prepare a cleansing solution.
I personally visited Enigma twice — once to get my ears pierced and, four months later, to get my septum done. Both procedures were totally painless for me, thanks to Evan, who was my piercer for both procedures. But since the piercing experience is different for every single person, here are opinions from other UCSD students who decided to put themselves into Enigma piercers' hands, as well:
"I went randomly with my roommate and her friend. They were getting their piercings, so I thought 'Why not pierce my cartilage?' We didn't wait at all because it was the evening. [The] healing process was also fine, though they didn't mention how to take out a piercing, which I guess is supposed to be intuitive, but I had no idea. A little on the expensive side but they seem to know what they're doing and it was a pleasant experience." — Helen Lee, UCSD '14 alumna.
"I first found out about Enigma through Yelp. The place had full stars and hundreds of reviews, so my friend and I decided to get our piercings done there. I wanted to pierce my cartilage for the third time around. I've had issues in the past with getting infections with my cartilage piercings so the area is pretty sensitive. My piercing was $80, including the earring itself. Although it is definitely in the high-end price, it was definitely worth it. They consulted the position of the piercing, and throughout the entire process, they were very amiable and calming. Overall, I have nothing but good things to say about this place. If you get 80 bucks out of me for a piercing and leave me happy and satisfied, then this place must be a damn good place." — Diana Wu, Eleanor Roosevelt College junior.
"I got my nose pierced at their Pacific Beach location about two months ago. The whole process was very clean; all of the tools the piercer used were sterile or came out of a new package. The woman who pierced my nose was a little opinionated, but she seemed to know a lot about piercing, though. She made a remark about the place I got my ears pierced, not knowing what they were talking about because you're never supposed to have to turn piercings (the people who pierced my ears told me to turn the piercings). Overall, it was a great experience. I haven't had any trouble with my piercing since. They gave me detailed instructions on care, and I would definitely go back if I need anything else done."— Jessica Walters, Thurgood Marshall College sophomore.