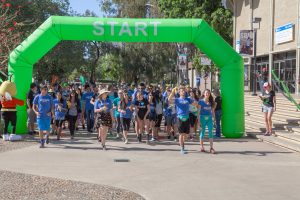 Warren College junior and Swipes for the Homeless representative Chantal Chan said the Walk the Block Party enables students to help one another.
"A lot of people don't realize that donating just a little bit of dining dollars can help the community," Chan said. "Because Swipes for the Homeless is centered on campus, students can see their actions make a direct impact."
The event began at 9 a.m. in Revelle Plaza and continued until noon. UCSD a cappella group Duly Noted kicked off the event by singing the national anthem as students prepared to walk through Ridge Walk, picking up an assortment of free goodies along the way.
In the center of the plaza, students were able to watch a variety of performances from the UCSD Hawaiian Club and live music from the Deejay and Vinylphiles Club. Students could also enjoy free food and drinks from various sponsors like Guayaki Yerba Mate, General Mills, Mini Sliders and more. 
Aside from the food, there were sundry activities that students could take part in. Students could get their face painted, rock climb, attend yoga sessions and play "hamster" bowling — a game in which students climb inside a giant inflatable ball to knock down a set of pins.
In addition to raising funds, the Walk the Block Party also sought to raise awareness for the growing issue of food insecurity that many students face. According to Chan, nearly one-fifth of UCSD students face such food challenges. 
To address this concerning statistic, the Triton Food Pantry was established to aid any student who may be struggling with food needs. In a 2013 survey of UC students, results showed that nearly 25 percent of UCSD students "often" and "very often" chose to skip meals in order to save money. 
ICRA member and Revelle College sophomore Lynnay Consul said the event helps brings attention to the food security issue at UCSD.
"I think it's really great to know what is happening. The Triton Food Pantry is a really great cause, but it is pretty small and tucked away into the [Original] Student Center," Consul said. "I think it's important because we have so many food-insecure people on campus. It's a really great opportunity to help them."
Having opened this past January, the Triton Food Pantry operates on an honor system in which students can come in and receive free food without having to provide formal documentation of their food needs nor be subjected to invasive questioning. However, students will need to provide their student IDs and such trips to the pantry are limited to once per week. 
The Triton Food Pantry is currently funded through a grant by the Office of the Vice Chancellor of Student Affairs. The San Diego Food Bank also helps provide inventory for the pantry for a small fee.