UCSD suffered back-to-back losses to CSU San Bernardino and Humboldt State.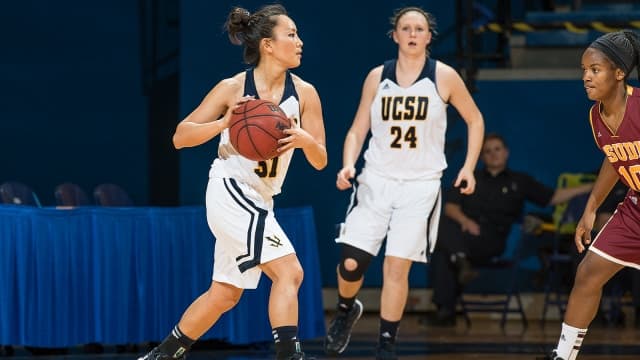 The postseason picture is only getting narrower for the UCSD women's basketball team after this weekend's pair of losses in crucial conference games. The Tritons were defeated 64–56 against Cal State San Bernardino and 67–64 to Humboldt State to bring them to 9–8 overall and 7–5 in the California Collegiate Athletic Association, good for a tie for fifth place in league standings. 
It was a tight game early on Friday evening, with the Tritons taking an 8–7 lead after five minutes of play. However, UCSD began to accumulate turnovers, and Cal State San Bernardino took the transition opportunities to build a 21–13 lead. UCSD never got into an offensive or defensive rhythm and went into halftime with a 36–27 deficit.
"They came out and played harder than us," UCSD assistant coach Chelsea Carlisle said. "They did what they do really well, and we didn't really play our game or match their intensity or energy in any way."
UCSD had to play catch up during the entire second half. They pushed hard and made runs, even coming within three points at 44–41 with 14 minutes remaining. However, indiscipline on defense cost them dearly, as Cal State San Bernardino got the ball inside for easy baskets in the paint. 
The offense also stalled, as Cal State San Bernardino did a good job to keep the Tritons in front of them and deny access to the paint. Every run seemed to be contained as Cal State San Bernardino went on to secure the 64–56 win.
"It seemed like we were making charges, and then we would turn the ball over and they would make a basket," Carlisle said. "I think it was more than that. I don't think defensively we did well, we didn't stop them at all and offensively we didn't convert."
Junior guard Jamie Katuna was the only Triton in double figures with 11 points as Cal State San Bernardino limited breakout star junior forward Farrah Shokoor to only six points and seven rebounds. Back in action after missing four games, sophomore guard Haley Anderson and senior guard Miranda Seto (eight points, nine rebounds) combined to go just 5–20 from the field in the losing effort.
On Saturday, UCSD took on the CCAA's No. 1 squad in Humboldt State. The Tritons put up a great fight but ultimately came up short in the 67–64 defeat.
After the lack of effort in Friday's game, UCSD came out with intensity and dominated the early part of the game. They built up a 22–20 lead while holding the conference leaders in check. However, a quick 8–2 run by the visitors brought the score to 28–24 for Humboldt State at halftime.
"In the first half, I think we had some opportunities, but we had some turnovers and didn't get some defensive stops," UCSD head coach Heidi VanDerveer said. "We had momentum."
Humboldt State came back after halftime and backed their 11–1 league record to build a six-point lead. But UCSD persisted and took a 56–55 lead with 4:44 left in the game. 
UCSD pulled within two with three seconds remaining on a three-pointer by sophomore guard Beth Mounier, but it was too little too late for the Tritons who had to surrender.
"We made a great run just down the stretch; we made some plays but not enough to win and they did [make plays]," VanDerveer said.
Senior forward McKennan Bertsch finished with 14 points, while Seto and Mounier scored 12 points apiece. Senior center Dana Webster had a double-double with 10 points and 10 rebounds. It was another tough game for Shokoor who was surprisingly held in check for the second consecutive game. Humboldt State had a determining advantage on the free-throw line, shooting 28 to UCSD's 16.
"This was probably the first weekend that we've been healthy, and we're trying to figure out different lineups who play well together, so I think 'out of sync' is a good [phrase to describe the situation]," VanDerveer said. "We have to play with a greater sense of urgency, play with better rhythm and better tempo."
Next Friday is Spirit Night at RIMAC Arena as UCSD hosts Cal State East Bay at 5:30 p.m. The Tritons then play Cal State Monterey Bay at home on Saturday, with tipoff also at 5:30 p.m.