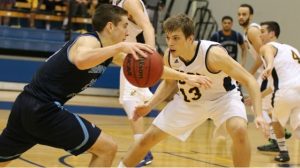 This past weekend, the UCSD men's basketball team saw serious promise and success as the Tritons won two all-important conference games. UCSD took down the California Collegiate Athletic Association's No. 1 seed Sonoma State University 64–57 in front of a season-high 1,671 fans at RIMAC Arena before defeating San Francisco State University 71–58 the following day.
With the two wins, the Tritons are now on a three-game winning streak and stand at 6–5 overall and 4–3 in the CCAA.
The Tritons played an impressive game on Friday night against the CCAA's top squad, shooting an imposing 57 percent during the second half.
The Tritons were down 25–21 at the half, but it was in the second frame that they took over the ball game, going 12 of 21 from the field and had an impressive 85 percent (17 of 20) free-throw percentage.
UCSD's advantage came during a 14–1 run between 15:34 and 10:11 left in the game to jump from behind into a 43–31 lead. Following this turnaround, Sonoma State managed to narrow the lead to five points, but UCSD kept the lead intact to close out the win.
"It was really our defense that kept us in the game in [the] beginning when we were behind at first," junior forward Hunter Walker told the UCSD Athletics Department. "I also think we fed off the crowd after a couple of shots fell through. It felt like we competed and did everything Coach told us to do, and that's why we kept them at a low-scoring shooting percentage."
As a team, the Tritons made 44 percent of their field goals and had three players who scored double-doubles during the game. Walker led the team with a game-high 15 points, followed closely by sophomore guards Adam Klie with 14 and Aleks Lipovic with 10.
"With a huge win over the No. 1 seed, it just means we can compete with anyone and everyone," UCSD head coach Eric Olen said. "When we play good basketball, it's a high enough level to have success on any given night at home, away, against anyone in the league."
The Tritons supported their coach's vote of confidence the following night as UCSD earned a strong victory against San Francisco State, who entered the game with an identical conference and overall record. 
Overall, the Tritons put up an amazing season-high 54-percent field goal percentage as they made 22 of their 41 field goals. Of their 22 made shots, nine were three-pointers. All 12 of sophomore guard Jeff Van Dyke's points came from beyond the arc, who went four of eight from downtown. 
"If our whole team plays freely, openly and just has fun, we can all shoot well any given night," Van Dyke said. "We have so many good shooters. It just happened to be me tonight."
Though the San Francisco State Gators led 7–5 early in the first half, the Tritons surged for a 13–0 run to jump ahead. 
San Francisco State chipped away at their deficit toward the end of the first half, but the Tritons managed to rally and stay ahead at 30–28 entering the half. 
In the second frame, the Gators failed to close the gap again, as the Tritons' impeccable shooting night held a lead for the remainder of the game. 
Klie maintained the team's offensive rhythm with his team-high 20 points on a near-perfect 6–7 shooting from the field, while adding a game-best eight rebounds. Junior forward Drew Dyer finished the game closely behind Klie, scoring 18 points also on 6–7 shooting, while Van Dyke followed with his 12 points. 
"The best teams are the ones that are most consistent, and this was a good weekend for us to show that we are one of them," Olen said. "It was a chance for us to protect our home court."
After a successful weekend, the Tritons appear to be slowly finding their rhythm as they move into a three-way tie for third in league standings. 
With their last five games played at home, the UCSD men's basketball team returns to the road next week as they face off against Cal State Los Angeles on Jan. 16 and Cal State Dominguez Hills on Jan. 17.