Adding Baymax, a soft and huggable robot, to traditional superhero tropes leads to the stunning success of Disney's "Big Hero 6."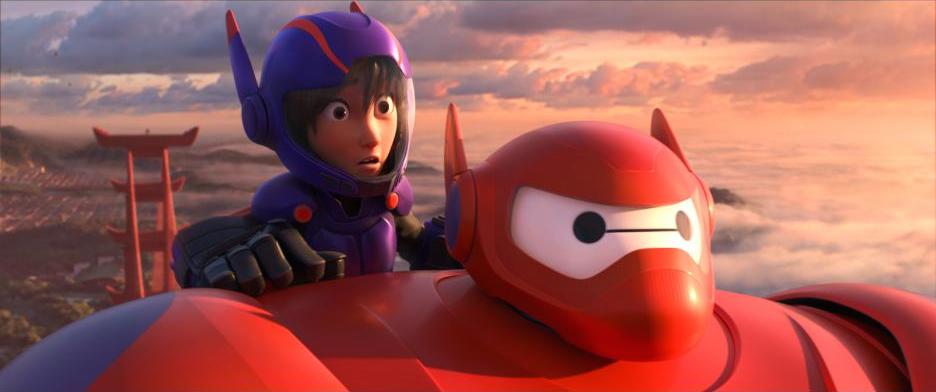 Rating 4.0/5.0
Directed by Don Hall and Chris Williams
Voice Cast: Ryan Potter, Scott Adsit, Daniel Henney, Jamie Chung, James Cromwell
Rated PG
Release Date: Nov. 7
Iron Man and Transformers, make room — a new robot hero has arrived on the big screen in the unlikely form of child-friendly Baymax. Roughly based on a Marvel comic, "Big Hero 6" tells the story of young robotics genius Hiro Hamada (Ryan Potter) in whimsical San Fransokyo, a mix of San Francisco and Tokyo. Hiro builds robots for lucrative but illegal bot fights while his older brother Tadashi (Daniel Henney) attends the leading robotics institute, San Fransokyo Tech. After rescuing Hiro from a bot fight, Tadashi shows him the college's laboratories and introduces him to his own project: a "personal healthcare companion" named Baymax. Inspired, Hiro builds thought-controlled nanobots to impress one of the professors and gain admission.
All seems well after Hiro's nanobots wow Professor Callaghan (James Cromwell), but tragedy strikes soon after. The devastated Hiro recedes into himself until Baymax takes him in as a "patient" and eventual friend. Baymax is silly and clumsy, the opposite of a heroic robot, but when Hiro's nanobots resurface as part of a dangerous plot, Hiro retrofits Baymax into a flying, fighting robot.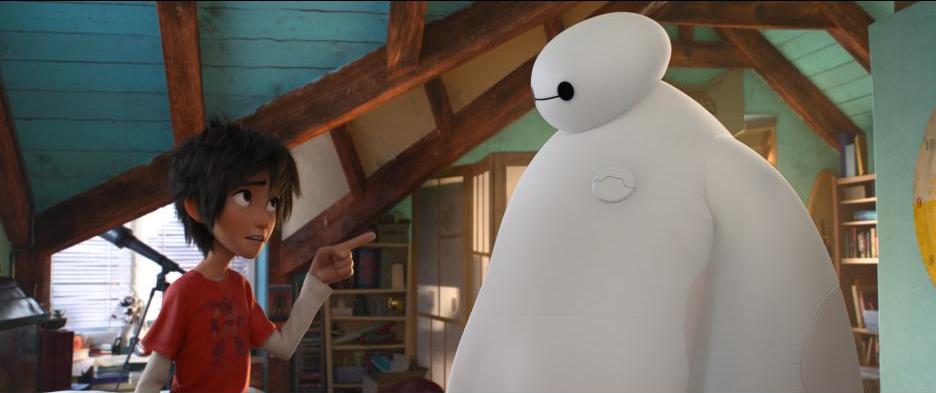 The plot continues in rapid succession as director Chris Williams sets up the backstory and evolution of Hiro. At times, the story is too quick, as montages roll by without significant explanation or reason. With a diverse range of intelligent characters, "Big Hero 6" shows important representation for minorities with characters such as GoGo Tomago (Jamie Chung), Wasabi (Damon Wayans Jr.) and Honey Lemon (Genesis Rodriguez).
Although each supporting character has a distinct personality, they lack the dimension seen in Hiro and Baymax. The movie focuses heavily on Hiro and his robot while the other characters are glossed over, but the "boy and his bot" relationship is satisfying by itself. Hiro is a smart, driven and complex character as he deals with the typical issues of a coming-of-age story while Baymax acts as type of surrogate older sibling.
The portrayal of heartbreak and struggle is realistic and nuanced as Hiro's motivations change from self-serving vengeance to the desire to help people that Baymax constantly shows. To offset serious themes, the directors combine simple but effective situational humor with quirky over-the-top personalities of the four side characters. For example, during a chase scene with the film's masked villain, the rule-following Wasabi drives the getaway car and focuses on obeying stoplights rather than escaping.
In addition to its clever humor, Walt Disney Animation Studios stuns again with imaginative and seamless animation. Cherry trees blossom next to trolleys in the reimagined city of San Fransokyo, taking characteristics of two cultures and merging them wonderfully. Even in 3-D, the vibrant colors and quick action are not overwhelming but natural and engaging. The wildly colorful setting contrasts with Baymax's simple and colorless frame, making him stand out even more.
Brought to life through clever animation, Baymax steals the show acting as an emblem for the movie's themes and providing precious comedic relief. A golden example is the police station scene when Baymax finds his vinyl suit is leaking air and, oblivious to his surroundings, uses some of the officer's Scotch tape to patch the holes. With his pudgy awkwardness, he is both amusing and lovable. Styled as a nurse rather than a warrior, he is bound to appeal to both young and old audiences. Vinyl balloons have never shown so much emotional range. You will laugh and maybe even shed a tear, thankfully hidden by your 3-D glasses.