The No. 6 UCSD men's water polo team will conclude their regular season at home this weekend.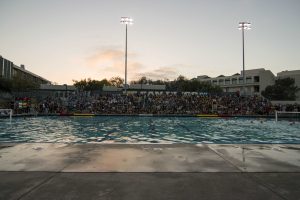 Coming in with a four-game win streak, the No. 6 nationally ranked UCSD men's water polo team looks to extend its impressive play as the regular season winds down. The Tritons will close out their final pair of matches at home, taking on a tough opponent in No. 4 Long Beach State on Thursday before taking on No. 12 UC Irvine on Senior Night.
"Having this essentially be our last stretch at home, I don't think it's really hit me yet," senior utility Josh Stiling told the UCSD Guardian. "I don't think it will until after the game on Saturday. We just got to go out and play as hard as we can."
At the conclusion of the regular season schedule, UCSD will next look towards the Western Water Polo Association conference championships starting on Friday, Nov. 21. The Tritons, who recently finished their in-league schedule, will enter the tournament as the No. 1 seed with a perfect 6–0 record in WWPA play.
If the Tritons win the league championship, they will move on to play in the NCAA Championship. Returning to nationals will bear even more significance this year, as the NCAAs are set to be held at home at UCSD's Canyonview Aquatics Center pool.
While the Tritons will enter this year's postseason showing strong promise, the team remains focused on the current matches at hand. Reaching the national stage is no guarantee, meaning this Saturday's match could serve as the final home game for this year's class of seniors.
"It's bittersweet," Stiling said. "UCSD has given me a lot. It helped me grow so much in the game and even in life."
Prior to the senior night's match, a strong and large departing class, including senior utility Luca De Vivo, senior two-meter Joe Dietrich, senior utility David Higginson, senior two-meter Dan Lorch, senior two-meter Matt Michalko, senior goalkeeper Cameron Ravanbach, Josh Stiling, senior utility Daniel Straub and senior utility Lukas Syka will all be honored.
"I'm satisfied with my career here and how I've progressed," Ravanbach said. "It's just crazy to think that there's only five weeks left in my water polo career. I know I've got to step up my game and have fun with it."
Thursday's match will commence at 7 p.m. at Canyonview Aquatics Center, while Saturday's game will start at noon.