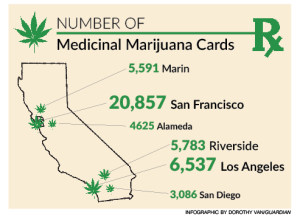 San Diego State University business professor David Blair became the first person in the city to receive a conditional use permit for legally operating a nonprofit medical marijuana dispensary.
Blair is just one of dozens of people who applied for one of these licenses since the San Diego City Council approved new zoning and operating guidelines that allow up to four medical marijuana dispensaries to operate in each council district in late February. His company, A Green Alternative, was approved by a city hearing officer on Oct. 15, and the permit will become official following a 10-day appeals period.
If everything goes according to plan, A Green Alternative hopes to set up a shop in Otay Mesa by the end of this year. The San Diego Police Department will inspect the dispensary annually until the conditional-use permit expires in five years.
"We're just so thrilled, grateful and humbled by it," Blair told NBC San Diego. "We always intend to play by the rules, and we will only play by the rules."
Although medical marijuana dispensaries were decriminalized in California by Proposition 215, known as the Compassionate Use Act, which was passed in 1996, San Diego County unsuccessfully challenged the law several times, and the city proper heavily restricted the number and locations of dispensaries. Marijuana use remains illegal under federal regulations.
The City Council voted 8–1 to overturn its previous restrictions on Feb. 25 after medical marijuana proponents gathered enough signatures to force a reconsideration. According to the new rules, no more than 36 total dispensaries will be allowed in San Diego, and they must maintain a 1,000-foot buffer zone between public parks, churches, schools and other dispensaries. They must also stay at least 100 feet away from residential areas and cannot have on-site medical professionals. As of March, the dispensaries are completely barred from Council President Todd Gloria's district, according to KPBS.
Edith Gutierrez, a city development project manager, told the UCSD Guardian that 37 other applications were waiting to be processed, concentrated in a few major districts. The next hearing will be held on Oct. 29 for a dispensary hoping to open near Mission Bay.
The application process is complex; it takes thousands of dollars and several months to complete and remains highly controversial. Many advocacy groups are strongly opposed to the new guidelines and certain marijuana shops still operate illegally within the county.
UCSD itself does not recognize medical marijuana cards and forbids smoking anywhere on campus.
San Diego Mayor Kevin Faulconer, however, supports the regulations.
"San Diegans deserve a fair and open medical marijuana policy that keeps our communities safe," he said in an online statement. "This permitting process is providing reliable access for patients that need medicine while also protecting our neighborhoods by clearly defining where these new dispensaries can be located."