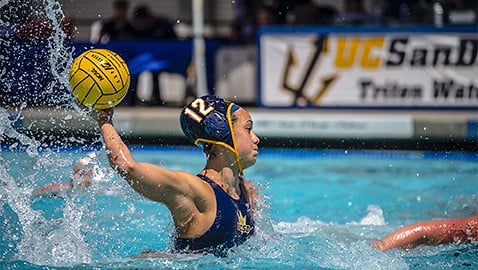 With major records shattered and heaps of awards earned throughout an illustrious collegiate career, senior utility of the UCSD women's water polo team Sarah Lizotte has certainly left her mark on the Triton program she has led for the past four years.
The Tritons recently wrapped up their 2014 campaign, concluding the season with a 27–13 record and finishing eighth overall at the NCAA Championships with Lizotte at the head. She led in scoring in her fourth and final season with 84 goals and tying with teammate junior attacker Jolene Guiliana for assists with 51 apiece. The team suffered a slightly bitter end, going 0–3 in the final tournament against three of the nation's top eight squads.
However, the Riverside native exits her career far from empty-handed; the senior holds a mile-long list of accolades and unforgettable experiences in the Triton uniform. She was the Western Water Polo Association Player of the Year in 2013 and 2014 and the 2012–13 UCSD Athlete of the Year; her 26 total goals in three NCAA appearances just barely trails the all-time record of 30 goals set by Stanford University's senior driver Lauren Silver; and she broke UCSD's all-time career records for goals (313), attempts (557) and assists (171).
Lizotte's slew of accomplishments and elite skills in the water stand firmly atop a dedication to the sport she has immersed herself in since childhood. She began her career at five years old, when she started swimming competitively, before taking up water polo when her swim team added the sport to its program.
Lizotte attended Riverside-Poly High School (2006–09) and played four years of varsity water polo, winning three consecutive conference and California Interscholastic Federation championships.
By her senior year, Lizotte was a highly sought-after recruit, receiving numerous offers from top Division-I programs. Yet, amid all the top-tier university hoopla, Lizotte was accepted to UCSD based purely on academic merit. Soon after, the Triton coaches reached out to the uncommitted high school senior.
"They pretty much just sold me on the school," Lizotte told the UCSD Guardian. "I wanted to come to a program where I felt like I could have an impact on the team and the school."
Over the last four years, she has certainly had quite the impact. However, the beginning of her collegiate career began on a rather rough note, as she was academically ineligible during the first half of her freshman season.
"I took it for granted how easy high school was, and then I came here and failed a class," Lizotte said. "Coming back halfway through season, I felt I had a lot to prove to my teammates as we finished out our season."
It seems the short time that she missed out on only motivated her more to succeed. The Tritons have won the WWPA championship title and qualified for the NCAA Championship tournament the past three out of four years with Lizotte and her fellow seniors at the heart of it all.
"There have been a ton of memories and experiences in and out of the pool that I will never forget," Lizotte said. "There is [a] bond I have with my teammates, especially my senior class, that I will take with me the rest of my life."
Beyond the pool, Lizotte's influence extends into student politics, as she has been a part of the Triton Athletes Council — UCSD's united student-athlete voice — for the past three years. In her first year with TAC, she was involved with the department's attempted Division I athletics referendum.
"Although we did not get the outcome we had hoped for, the department is gearing up for another referendum," Lizotte said. "It really demonstrated the bond of this community and that the athletes and the athletic department is a force to be reckoned with."
In regards to her own future, Lizotte doesn't have to look too far. She will remain at UCSD through winter quarter to complete her degree in communications, and as for her water polo career, she has no intention of hanging things up just yet.
"I am going to be working out and taking a shot at the senior national team," Lizotte said. "And going to the Olympics, that's the ultimate goal."
As one of the top players in the country, an ambitious destination such as Rio for the 2016 Olympic games is undoubtedly within her reach. When Lizotte broke UCSD's all-time scoring record earlier this season, her mark in the Triton record books surpassed none other than former Olympic silver medalist Julie Swail.
"I am willing to try to see if that is a possibility for me," Lizotte said. "I know I can compete with any of those girls, I just have to go out and prove it, and prove it to myself."