Five UCSD athletes competed in Allendale, Michigan this past week in the NCAA Division II Outdoor Track & Field Championships, finishing with strong results and two All-American distinctions.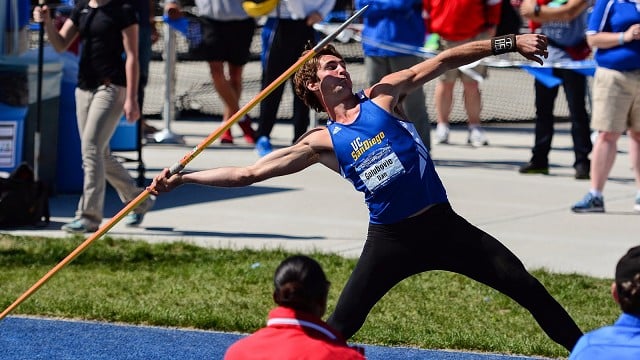 A handful of Tritons competed in four events over the course of three days at the NCAA Division II National Championships in Allendale, Michigan, from May 22 to May 24. Thanks to an exceptional set of performances, the team returned home with two All-American Honors.
Redshirt freshman Dan Golubovic kicked off nationals for the Tritons, starting his decathlon on Thursday as the 11th seed. Golubovic completed half of the decathlon on the first day with a personal best throw in the shotput (37 feet, 3 inches). However, overall, Golubovic appeared to underperform in the majority of the first day's events.
"Day one ended up being a very rough meet for me," Golubovic told the Guardian. "It was just poor performances all across the board. I couldn't really catch a break. It was more of a mental challenge — trying to forget about the last event and move on to regroup for the next."
Also making his national debut on day one, sophomore Carlos Bojorquez competed in the 1,500 meter run. The San Diego native, seeded 18th out of 20, narrowly missed advancing to the finals. His time of 3 minutes 56.2 seconds put him fifth in his heat, just short of earning advancement to the final round. Bojorquez concluded his NCAAs effort with a 14th place finish.
On day two, Golubovic rounded up his national debut with more impressive performances. He won the 110-meter hurdle heat with a new best time of 15.20 and took top honors in the discus, throwing a personal best distance of 144-7 on his final attempt. Golubovic finished up his events 12th out of 16 with 6,616 points, about 1,000 points behind Chico State national champion J Patrick Smith.
"It was a tremendous turnaround," Salerno said. "He was really outstanding honestly. He had PRs in several events on the second day, which was pretty remarkable. He really brought his score back up, so it's a good prophecy for his future for sure."
Junior sprinter Sabrina Pimentel, who enters this year's national championship in the 10th seed out of 20, ran in her preliminary heat in the 800-meter on Friday, placing eighth with a time of 2:09.31 to advance to Saturday's final.
Pimentel, who earned All-American status in the 4×400 relay her freshman year and went just shy just of taking All-American status last year in which she placed ninth, snagged the national distinction this time around. Crossing the finish line in eighth place, her time of 2:11.02 earned her the coveted All-American marker.
"It was a relief [to reach All-American status]," Pimentel said. "I didn't want to repeat what had happened last year — I was so close. I had a little mental barrier last year, and this year I didn't have as much of a mental barrier. It's pretty satisfying to finally reach the end goal I was trying to achieve."
Juniors Nash Howe and Anthony Capitulo competed in the javelin, with Howe coming in seeded first and Capitulo seeded 20th. Capitulo bested his original seeding, finishing in 17th with his best distance at 192-6 on his second attempt. Howe's first mark of 211-0 proved to be his best throw but could only earn him sixth best in the nation. While the mark was far from first, Howe nevertheless earned his second All-American distinction.
"Nash had a somewhat disappointing championship," Salerno said. "In the context of going in basically tied for first, it really adds a lot of expectations. That's part of javelin throwing — it's got a lot of variables to it. Unfortunately, it just wasn't Nash's day to be up there, but he's All-American and moved up a place from last year, so you can't complain about that."
While the Triton group was small, it earned national attention and proved they could compete with and match the level of established national programs. With none of the five athletes graduating this year, UCSD only hopes to elevate themselves further for next year's NCAAs.
"We took five athletes and two came back as All-American," Salerno said. "That's a good yield. Very few teams ever see that. For us, we see high level competition all year. [That] prepares us real well for championships — it has historically — and it certainly showed up this time."