Opponents of Che Cafe Closure Prepare for Legal Fight
Supporters of the cooperative concert venue brought legal counsel to a meeting regarding a potential closure for 2014-15.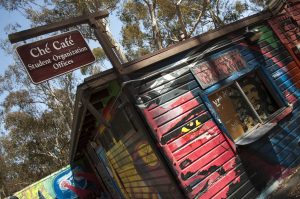 Members and supporters of the Che Cafe Collective brought a lawyer on their behalf to the University Centers Advisory Board's weekly meeting on May 13. Over 50 people came to the meeting to influence UCAB members' to vote against closing the Che Cafe facility next year due to safety issues. UCAB did not vote during the meeting because there was not enough time to accommodate everyone who wished to speak during public input.
Since not everyone was able to speak due to time constraints, a special meeting will be held on Monday, May 19, to continue the discussion.
"When we vote depends on how long they will keep having public input," UCAB Chair Sammy Chang said. "I expect that Monday will be all public input again."
According to Chang, there were over 50 people in attendance in the Earl Warren College Room at Price Center, which has a capacity of 39 people. Thus, the meeting was moved to The Forum at 2:30 p.m., at which point they listened to public input for 45 minutes.
The lawyer has been working closely with the Che Cafe "with taxes, applying for nonprofit, and working on the Master Space agreement," according to Che Cafe Co-operative volunteer Julia Mou. Mou referred to her as "the only person who understands the numbers anymore."
"She showed up to the meeting to express her own grievances at the school
administrators' lack of transparency," Mou said. "At no point did she bring legality into the argument…. We had no intention of starting a legal war with UCSD, and only wished to communicate clearly."
Due to the fact that Che Cafe Collective brought a lawyer, UCAB will employ the UCSD legal counsel on their part.
"We were kind of blindsided; in the meeting, we were supposed to meet with just students," Chang said. "The Che Cafe has made this into a legal issue. We can't talk anymore — we have to talk in front of attorneys."
Chang added that if the Che Cafe files a suit against UCAB or University Centers, the University of California's Board of Regents will become the defendant.
UPDATED 5/21 10:11 p.m.: This story was updated to include quotes from Julia Mou.