Mexico-Based Health Frontiers Internship Extended to UCSD Undergraduate Students for Summer 2014
UCSD-operated free health clinic in Tijuana offers summer internship to students of all majors and an internship to students in the global health minor during the academic year.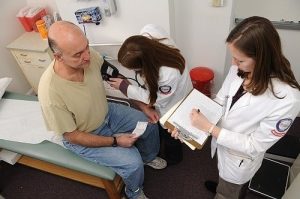 The UCSD-operated free health clinic, Health Frontiers in Tijuana, will offer two seven-week undergraduate summer internship sessions open to students of any major. 
The HFiT program began offering undergraduate student internships in Winter Quarter 2014; however, these opportunities during the academic school year are only open to students pursuing global health minors, who can use the program to fulfill their 100-hour global health field experience requirement.
During the academic year, these student interns volunteer every other week at the health clinic. During the new summer program, the undergraduate student interns will be expected to travel to Tijuana to volunteer at the clinic every week. 
According to Student Coordinator Daniel Yee, the undergraduate student interns primarily take care of record keeping.
"The program has been very successful," Yee said. "It's still going through growing pains, but it's helped so much for the records. We're capturing a lot more information than before. It helps out with the quality of care we can have at the clinic because [we] don't need to worry about [the] administrative side."
Additionally, the interns take patients' vitals and participate in consultations if space permits. Currently, there are 12 undergraduate student volunteer interns, and unless the clinic grows, there are no plans to expand the undergraduate internship program.
"[The student interns have] definitely shown a high level of commitment," Yee said. "It takes a lot of time to get to the clinic, and coming back you have to wait at the border which can sometimes take a few hours. The students are volunteering their time. They're very passionate about healthcare for the underserved, and they're willing to give up their entire Saturday to volunteer at the clinic."
Applications to the 2014 HFiT summer sessions will be accepted until the end of Week 7 of Spring Quarter 2014 and can be found at meded.ucsd.edu.