UCSD posted strong results at conference championship, hosted at Triton Track and Field Stadium this past week.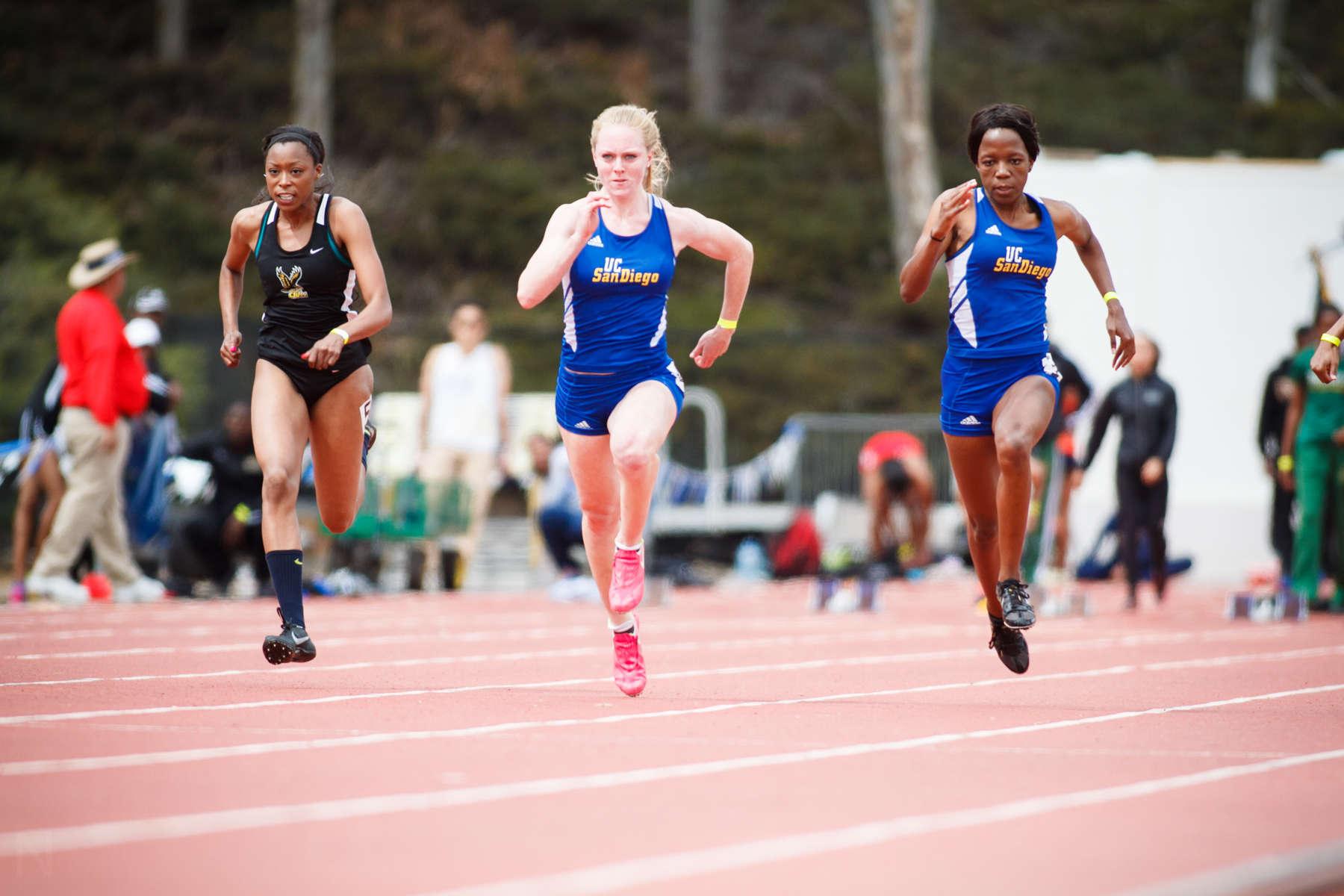 After a season full of broken records and impressive performances, the UCSD track and field team put up perhaps its best showing in the final competition of the season as a full squad, as the Tritons hosted the California Collegiate Athletic Association championships at the Triton Track & Field Stadium this last Thursday through Saturday. At the end of the three-day meet, both Triton men and women finished in second place, while a host of individual UCSD athletes earned a spot on the podium in their respective events. 
Going up against eight women's teams and six men's teams, the Tritons faced a slew of tough visiting conference challengers.
"As our people often do in big meets, we really overachieved, you could say," UCSD men's head coach Tony Salerno said. "Almost across the board, we had people step up and do some pretty amazing things." 
The meet began on Thursday with the men's decathlon and women's heptathlon. Junior heptathlon Veronica Bradley and freshman decathlon Dan Golubovic highlighted the opening events with two solid starts to the combined event.
Both Tritons' competitions carried over to Friday, when they finished strong and each secured podium finishes. Bradley recorded 2,925 points in the high jump en route to her third-place effort in the heptathlon. Golubovic, a redshirt freshman for the majority of the year, not only won the entire decathlon, but also set the stadium record at 6,898 points and is now second in school history in the event.
"[The decathlon] is a pretty remarkable event for a freshman," Salerno said. "It usually takes quite awhile to develop into that. [He] looks pretty good … that's really an amazing event." 
In total, 10 final heats were held on Friday and seven Tritons made their way to the podium.
"Across the board, it's just amazing what they brought, what it took to make the podium. It was intense," UCSD women's head coach Darcy Ahner said.
Sophomore distance Paige Hughes was the favorite heading into the 10,000 meter and did not disappoint. Hughes won handily, with a time of 37 minutes 32.91 seconds, nearly 16 seconds ahead of the next finisher. Fellow sophomore distance Chandler Colquitt also stood on the podium in third with a time of 37:50.81.
Senior distance Kellen Levy and last year's CCAA 10K champion successfully defended his title with a late-race push, besting his personal record by nearly 41 seconds and finished with a time of 31:12.33 to stand atop the podium.
On Saturday, UCSD continued to shine, putting in several more personal and team bests. All-American junior throws Nash Howe won the javelin for the second year in a row with a throw of 225'4". Fellow junior All-American sprints Sabrina Pimentel, who broke the school record in the 800 meter several weeks ago, won in the same event with a time of 2:13.48.
Junior sprints Keith Rose came in second in the 100 and 200-meter dashes with times of 10.72 seconds and 21.30 seconds, respectively. In both heats, Rose fell to CCAA Track Athlete of the Year Gregory Veals of CSU Los Angeles. However, Rose's time still broke the school record he set earlier in the year.
Senior All-American hurdles Lauren Irish also put up a personal best in the 400-meter hurdles with a time of 1:01.40, good enough for third place and the fourth best time in UCSD history. 
"We are young and we are fighting," Ahner said. "A fire has been lit. It's really amazing to see suddenly the competitiveness this team has."
Both sides finished second behind Chico State University. The men recorded a total of 177.5 points, and the women tallied 188.66 points. Chico State's men, winning by nearly a hundred points, won their eleventh straight conference title, while the women, winning by only nine, took their fifth straight title.
Now, with NCAAs looming ahead, the Tritons have only the Occidental Invitational remaining before heading to nationals. With only Howe having qualified so far, UCSD will send those on the brink of qualifying to Eagle Rock for the final invite in a last ditch effort to acquire more qualifiers for the Division II Championships in late May. The one-day Occidental Invitational will begin at 11 a.m. on Saturday, May 10.