In response to recent election grievances, Council prohibited cross-council endorsements.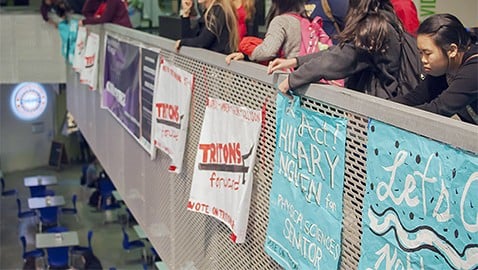 Members of A.S. Council voted against several amendments to the current Council election bylaws on April 30, maintaining the illegality of the formation of election "super slates" and cross-council endorsements.
The concept of super slates — an alignment of college-specific and campuswide slates through means of financial and other election-related support — faced controversy in the 2013 A.S. Council election.
"You can't really tell if [super slates] win on merit or the ability to reach out to more students," incoming A.S. Council President Robby Boparai said.
This led to last year's unanimous decision to prohibit the creation of super slates, an idea introduced by Boparai, Alex Noronha, Colin King and Andy Buselt — all members of A.S. Council at the time.
The coalition — excluding Boparai, who recused himself due to conflicts of interest because he ran for A.S. Council president — added to the bylaws that "under no circumstances shall a campuswide slate provide election support for a college-specific slate" and that "all slates must make a goodwill effort as to not be complicit in any sort of alignment between a campuswide and a college council slate," all of which council members attempted to remove via the amendments proposed at last night's meeting.
According to outgoing Social Sciences Senator and Elections Committee member Colin King, these amendments came after a series of grievances associated with super slates that were filed by the Tritons Forward slate during this past council election.
The grievances involved A.S. Council slates Tritons Forward and Let's Act! as well as Muir College Council slate GLAD. Boparai and Tritons Forward, filed two grievances against Let's Act! and GLAD due to actions seen as complicit with super slate and slate alignment behavior.
Although the amendments were meant to prevent similar grievances from happening again, Boparai thought the issue should have been solved by amending the language in college council elections bylaws.
Conversely, Vice President Finances and Resources Sean O'Neal stated that slates' ability to support one another is an exercise of free speech and expression as a comment in the A.S. Live Blog. However, a guest on the blog commented that super slates give power to "hyper-visible people" and that taking away super slates is "empowering students who are typically disenfranchised from A.S. as an institution."