College Parties Debate Looming Issues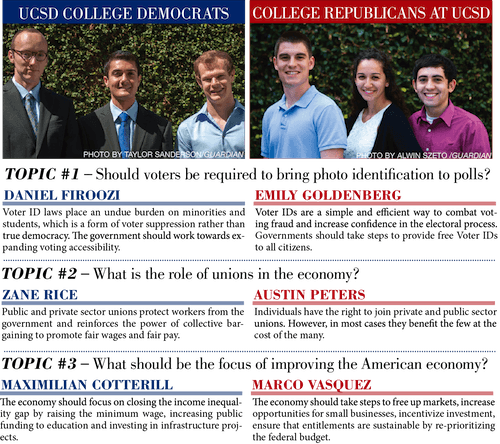 UCSD College Democrats and College Republicans at UCSD held their Spring Quarter 2014 debate on April 29 in the Dolores Huerta Room at the Old Student Center, tackling topics such as voter identification laws, the role of public and private sector unions and each organization's visions for a sustainable economic future.
The event was cosponsored by the UCSD Guardian and Student Organized Voter Access Committee, with Guardian editor-in-chief Zev Hurwitz moderating the three part debate. Eighteen minutes were spent on each of the first two topics. For each topic, College Democrats and College Republicans both prepared a two-minute introduction, three-minute rebuttal, two-minute rebuttal and one-minute concluding statement. During the last section of the debate, each party created 10-minute powerpoint presentations on their visions of America's economic future.
UCSD College Democrats Director of Membership Daniel Firoozi argued that voter identification laws suppress votes from disadvantaged groups in order for Republicans to win elections.
"You got to look at the statistics," Firoozi said. "Ninety-eight percent of voter fraud is committed by mail. Voter photo ID doesn't fix that.
In her rebuttal, College Republican Emily Goldenberg argued that photo identification acts in the interest of the people to prevent voter fraud and is supplementary to the current state voter identification laws.
"We are in favor of modernizing our election system," Goldenberg said. "It is only fair to assume that the noble institution of election will be viable, that no one could possibly break our elections because we have protected ourselves against such violations of our liberties."
Upon moving on to the next section, College Democrats and College Republicans disputed over the topic of the role in which unions play in the U.S. economy.
College Republicans claimed that unions hurt the opportunities of the average American, while College Democrats argued that unions expand the middle class.
Chair of College Republicans at UCSD Austin Peters, who acknowledged that his parents and grandparents are members of unions, claimed that unions only benefit a few at the cost of many.
"We believe that unions in the 21st-century economy have done more to diminish opportunity than to withstand them," Peters said. "Unions, on the basis of their existence, are exclusionary. That's how they raise the wages above the average workers."
UCSD College Democrats Director of Campus Political Affairs Zane Rice asserted that all people have the right to join unions.
"We should support laws that increase worker rights," Rice said. "We believe everyone ought to be able to join the union and ought to be a part of the system."
During his rebuttal, Rice defended the strong correlation between cohesive teacher-union protection and education success in Finland. Later, Peters reiterated his stance on the individual's right to decline union membership and proposed that states adopt right-to-work laws that employ fair hiring.
College Republicans also advocated economic sustainability for small-business reforms, incentivizing investments, entitlement reforms and prioritizing the federal budget. College Democrats supported raising the minimum wage, Obamacare, education reforms, immigration reforms and investment in infrastructure.
"Businesses need customers, and customers need businesses," College Republicans at UCSD Vice Chair of External Affairs Marco Vasquez said. "The scope of legislating small businesses is to insure that everyone can have the same opportunity to offer products and the best price, and be able to use their services by re-evaluating regulations."
UCSD College Democrats Director of Communications Maximilian Cotterill critiqued income inequality and advocated to adjust the minimum wage according to inflation rates.
"Many of our policies are aimed at restoring the American Dream," Cotterill said. "Social mobility has stagnated and is no longer what it has been in the past."
Both parties were very satisfied with the crowd turnout at the debate, although Vasquez thought the debate focused too much on national platforms than on policies.
"I thought it was interesting that the Democrats spent all the time attacking party ideals," Vasquez said. "I think the purpose of the debate is to focus on policies and solutions."
Firoozi credited the large amount of spectators at the event to aggressive advertising on campus through flyers and social media.
"I think we promoted really hard," Firoozi said. "We definitely think the [free] food helps too."