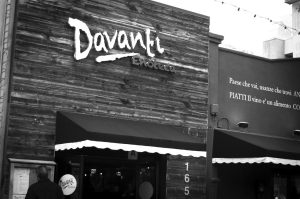 Italian cuisine, like many other ethnic cuisines, tends to get oversimplified to the public as just pizza and pasta. Though pizza and pasta are definitely a big part of Italian cuisine, each region of Italy has different specialty dishes that feature the crops and livestock of that specific region. Davanti Enoteca's menu stays true to Italian style, embodying the culture and flavors of Italian regions such as Tuscany, Campania and Sicily.
Recommendation: Go with a group of friends.
If you want to get a taste of different regions of Italy, ordering different dishes and sharing is the way to go. For the table, start out with the ricotta and honey comb cheese platter ($8). The savory ricotta cheese paired with sweet honey served on top of a thin, crispy and warm Pugliese-style bread (from the region of Puglia) is simple but combines fresh flavors that are a phenomenal way to awaken your palate.
At this point, you might want to consider ordering something to wash everything down. There are a number of local San Diego beers such as Stone IPA, SD ($6) and imported Italian beers, such as Moretti ($6), on tap. Or, if you'd like to feel sophisticated and order wine, Davanti Enoteca is the right place because "Enoteca" literally translates to "wine repository." Don't worry if you have no idea what is what — there's an in-house sommelier who can suggest wines for you and let you try before you buy. If you'd prefer to try a classic Italian cocktail, order from the "Adult Beverages" menu, which features a number of classic aperitivo cocktails such as the Spritz ($11), which is a pretty reddish-pink drink that has aperol, prosecco, soda and orange.
One of the advantages of ordering with a group is that you can all order different dishes and try a bit of each. At Davanti, your taste buds can take a trip through almost every region of Italy through these dishes: Mascarpone Polenta ($14), Pizza con Prosciutto e Rucola ($15) and Spada Davanti ($16). The Mascarpone Polenta is traditionally a Northern Italian dish from the region of Lombardy that has a smooth, creamy and cheesy texture that pairs well with the ragu (a meat-based sauce) of the day. Served in a piping hot pot, the waiter will then spread out the polenta on a rustic wooden board and mix in the ragu, which features the meat of the day, such as pork shoulder, veal or lamb. If you are vegetarian, ask for the ragu on the side. At Davanti, pizza is made in the traditional thin-crust Neapolitan style, featuring the flavors of the Campania region. The Pizza con Prosciutto e Rucola is savory, smoky and spicy; it has no sauce, two different varieties of regional cheeses — mozzarella from Campania and fontina from Val d'Aosta — and topped with thinly cut prosciutto, which comes from northern and central Italy, and spicy arugula. For a taste of Sicily, order the Spada Davanti. The Spada, which means "swordfish" in Italian, is grilled to perfection, coated with breadcrumbs and served with chilies from the region of Calabria and brussels sprouts that will make you reconsider anything bad you've ever said about them.
For those looking to expand their knowledge of regional Italian cuisine, the dining experience at Davanti is unbeatable. Overall, Davanti is a bit expensive for your average college student, but it is a great place to take your parents or friends that are willing to split the cost. Davanti's environment, service and culinary style is about as Italian as it gets; so, if you are looking for authenticity, Davanti is the place to go.