Lights and Sirens is compiled from the Police Crime Log at police.ucsd.edu.
Friday, April 18
5:30 a.m.: Suspicious Person
A guest in the Marshall Residential Halls was asked to leave by other roommates after causing a disturbance. Report taken.
3:08 p.m.: Lost Property
Items were left unattended at a Gilman Drive bus stop. Information only.
11:55 p.m.: Welfare Check
A non-affiliate was sleeping in the Tuolumne Apartment common lounge area. Stay-Away order issued.
Saturday, April 19
1:45 a.m.: Disturbance
A suspicious person attempted to take a wheelchair near Campus Point Drive. Stay-Away order later issued.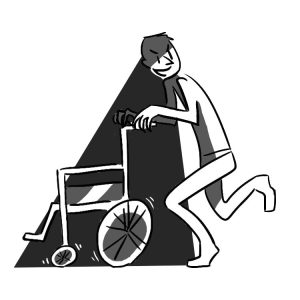 11 a.m.: Non-injury Accident
A vehicle rolled out of its parking space into another vehicle in Lot 357. Report taken.
3:19 p.m.: Assist Other Agency
The San Diego Fire Department and lifeguards responded to a report of a paraglider stuck on a cliff near Glider Port. Information only.
4:30 p.m.: Disturbance
A group was firing paintball guns in the woods near the Coast Apartments. Field interview administered.
11:52 p.m.: Alcohol Contact
Sixteen minors were found with false IDs and consuming alcohol in North America Hall. Closed by citations.
Sunday, April 20
9:29 p.m.: Hazard Situation
Broken glass from a table was found on Blake Hall's fourth-floor sun deck. Referred to other agency — Housing Maintenance.
Monday, April 21
10:09 p.m.: Non-injury Accident
A UCSD shuttle bus rolled out and collided with a parked vehicle. Report taken.
Tuesday, April 22
10:44 a.m.: Medical Aid
The subject fainted in the Moores Cancer Center's lobby waiting room. Medics responded. 
6:43 p.m.: Traffic Control
A broken-down MTS bus was blocking traffic near Gilman Drive. Unable to locate.
Wednesday, April 23
2:48 p.m.: Gang or Terrorist Threat
Threats were made via text message. Report taken.
Thursday, April 24
1:50 p.m.: Animal Call
A swarm of bees was reported near Round Table Pizza in Price Center. Referred to other agency — Environment, Health & Safety.
9 p.m.: Disturbance
A psych subject was reported for battery and was found being aggressive with a teaching assistant in York Hall. Transported to hospital.