Avey Tare's Slasher Flicks aims for B-movie oddity, but the results are often frustratingly overdone.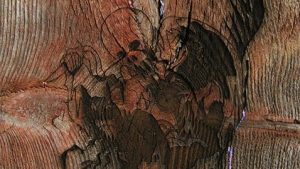 Rating: 2.5/5
Release Date: April 8
As a member of Animal Collective, Dave Portner — better known as Avey Tare — has never been afraid to overload the senses. His experiments in folk, psychedelic and electronic music merge the accessible with the strange, leaving a sizable imprint on independent music's propensity to bring together both the pop and unorthodox song structure. So it seemed fitting that Portner formed Slasher Flicks with Angel Deradoorian and Jeremy Hyman, former members of genre-bending experimental groups Dirty Projectors and Ponytail, respectively.
But when Slasher Flicks released "Little Fang" from its debut "Enter the Slasher House," many were surprised by its rather uncomplicated sound, with a fairly straightforward chord progression and drumbeat. Inspired by the off-kilter oddity of B-movie horror films, the song plays around with various vocal effects that shift and phase the vocals to emphasize its campy nature. The effects are never overbearing, showcasing a great ability for restraint.
"Little Fang" created some lofty expectations for the rest of the album, but unfortunately, the results never quite reach the same highs. Its overloaded effects, applied so well on "Little Fang," push the horror film aesthetic past its likable novelty to the point of not even recognizing the horror genre as an influence on the sound.
The opener, "A Sender," with a driving beat and springy guitar-line, is undeniably catchy, but it is difficult to get past the vocals drenched in a warbled, water-like veil supposedly intended to inject playfulness into the song. "Catchy (Was Contagious)" suffers the same fate, with interesting vocal melodies and instrumentation that are unable to penetrate the dense effects, and tracks like "That It Won't Grow" lack any sense of the structure that made "Little Fang" such an earworm. "Enter the Slasher House" feels overdone. This may very well be an intentional homage to the over-the-top films Portner was inspired by. It is slightly similar to the movies made with the specific intention of being so-bad-it's-good — forcefully ridiculous instead of naturally happening upon the surreal and downright bizarre. It never quite feels as genuinely fun as the band's image suggests. "Enter the Slasher House" works best when the music has some sense of structure and allows room for breathing. Sadly, though, the band more often than not chooses to suffocate its songs with a heavy layer of effects.